Lincoln Chauffeur Service
---
---
Current Car: 2013 Lincoln MKZ Hybrid Reserve Ice Storm 2.0h CVT
Previous Cars
2008 Ford Focus SE Sedan White 2.0L Duratec I4 4 Speed Automatic
2004 Lincoln LS V6 Luxury Cashmere Tri-Coat 3.0L Duratec V6 5 Speed Automatic with SST
1999 Mercury Sable LS Premium Toreador Red Clear Coat Metalic 3.0L Duratec V6 4 Speed Automatic
Re: Lincoln Chauffeur Service
---
I wonder if they'll eventually make this a standard perk for Black Label.
---
Current Car: 2017 Lincoln MKZ Hybrid
Recent Previous Cars:
2016 Lincoln MKZ Hybrid
2015 Lincoln MKC
2013 Ford Edge
---
Last edited by AllenLincoln93; 04-12-2017 at

03:31 AM

.
Re: Lincoln Chauffeur Service
---
Quote:
Originally Posted by
AllenLincoln93
View Post
I wonder if they'll eventually make this a standard perk for Black Label.
According to the article ALL Lincoln owners new and old.
Quote:
It's also available for all Lincoln owners, new and old, not just members of Lincoln Black Label. Buyers of any new Lincoln will be given the equivalent of eight hours free in the service. This is a significant perk, since Lincoln said the estimated cost is $30 per hour of use at the current pilot pricing.
---
Current Car: 2013 Lincoln MKZ Hybrid Reserve Ice Storm 2.0h CVT
Previous Cars
2008 Ford Focus SE Sedan White 2.0L Duratec I4 4 Speed Automatic
2004 Lincoln LS V6 Luxury Cashmere Tri-Coat 3.0L Duratec V6 5 Speed Automatic with SST
1999 Mercury Sable LS Premium Toreador Red Clear Coat Metalic 3.0L Duratec V6 4 Speed Automatic
Lincoln Chauffeur Service
---
Lincoln 'Chauffeur' Service
Motorauthority
Sean Szymkowski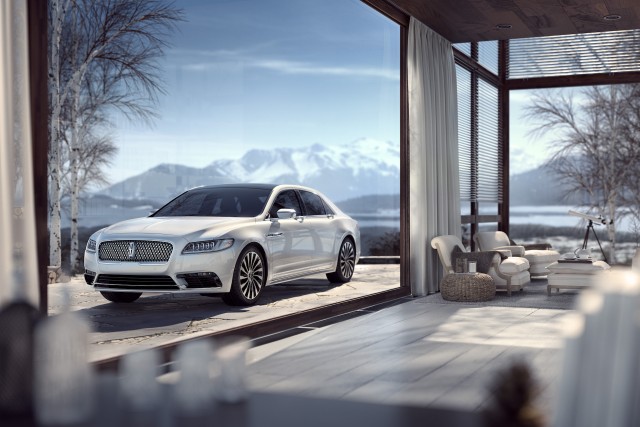 Apr 17, 2017
Lincoln is experimenting with a program to offer owners and lessees a taste of the finer things in life as it begins testing its latest service simply called "Lincoln Chauffeur." As the name implies, the program allows Lincoln drivers to become the driven with a personal driver and shopping assistant.
The brand states it has worked with a third party to train chauffeurs and prepare them to wine and dine the owner with whatever is deemed necessary. Want to look good for your date? Have the driver deliver you in style while relaxing in the rear seat of your Continental. Do the kids need to be picked up from school? Your chauffeur can skedaddle on down to the school in your Navigator. The options are pretty endless.
It's a generous service, too. Lincoln will allow eight hours of Chauffeur to give owners a taste of the lifestyle of the rich and famous. After that, the marque plans to charge $30 for every extra hour the driver is needed.
Lincoln is simply testing the new program right now and the service is only available in Miami, Florida. However, after Miami, the brand plans to launch Lincoln Chauffeur in San Diego, California, to continue ironing out any wrinkles that may present themselves along the way. Plans for a nationwide launch have not been discussed at this time.
http://www.motorauthority.com/news/1...uffeur-service
Re: Lincoln Chauffeur Service
---
Lincoln Pilots New Chauffeur Service
https://www.mediapost.com/publicatio...r-service.html
Tanya Gazdik
NEW YORK — Ahead of its official unveiling this morning, The Lincoln Motor Company hosted small groups of media Tuesday afternoon at the Trunk Club, a posh men's store on Madison Avenue, to show off the all-new 2018 Lincoln Navigator.
The space was reconfigured to have the feel of a Hamptons home in recognition of a partnership the automaker announced with Hamptons hot spot The Surf Lounge. The collaboration will include a 10-date concert series at the Montauk beachfront resort, Lincoln president Kumar Galhotra told reporters.
A custom "Lincoln bedroom" within The Surf Lodge was inspired by the new Lincoln Navigator Black Label Yacht Club theme immersing guests in nautical-inspired design elements and materials; available for select guests from Memorial Day through Labor Day.
"'The Lincoln Way' delivers warm, human, personally crafted experiences to clients through both products and services," Galhotra says. "Lincoln x Surf Lodge is the latest exclusive experience to be offered through The Lincoln Way."
The automaker also announced a new premium service being pilot tested in Miami. The Lincoln Chauffeur program offers owners the opportunity to schedule a driver to come to their location and drive them in their own vehicle. The chauffeur can also be assigned other tasks, like picking up children and running errands.
Owners in the test market are being given eight hours of complementary service, after which they can pay $30 an hour to continue using it, Andrew Frick, Lincoln director of sales and service operations, tells Marketing Daily.
The program will expand to San Diego later in the spring and then continue to roll out to the rest of the country thought the remainder of the year, Frick says.
Another program is being tested in Houston and Dallas which allows remote test drives. A Lincoln sales person will bring the desired vehicle to home or work.
Lincoln also unveiled the new Navigator, which goes on sale in late January. Pre-launch marketing will emphasize social media. Lincoln spokesman Matthew McConaughey will return in the TV portion of the campaign, which will break early next year.
The automaker conducted observational research facilitated by trained anthropologists to help inform the marketing approach, Galhotra says, adding that "quiet luxury is both a look and a feeling."
The luxury vehicle includes new advanced technology allows drivers to adjust Navigator with the twist of a knob to make driving easier and more enjoyable in any weather or terrain. Unique split front seats in the front allow for positioning to better support the thighs and will curtail driver fatigue, Galhotra says.
Re: Lincoln Chauffeur Service
---
Re: Lincoln Chauffeur Service
---
Imagine....being able to go out for the evening, have a meal, and both are able to have wine with dinner, and no worries about driving drunk. About 3 hours or $90 for a door to door service plus tip. Or for $30, have a driver pick-up your kids from school and bring them home, or pick up you up from the airport in your own Lincoln.
Re: Lincoln Chauffeur Service
---
Lincoln Motor Company Partners With Montauk's The Surf Lodge
Hamptons.com
On Tuesday, April 11, Lincoln Motor Company launched its exciting collaboration with Montauk's The Surf Lodge during a preview held at the private Lincoln Hamptons Home in New York City. The intimate Hamptons inspired fęte was hosted by Lincoln president Kumar Galhotra and The Surf Lodge owner/cultural curator Jayma Cardoso.
The festive soiree was curated by The Surf Lodge designer Fiona Byrne and Executive Chef Chris Rendell, and brought out DJ Alexandra Richards, blogger Athena Calderone, celebrity hairstylist Ric Pipino, Kelly Bensimon and more. In addition to learning about the latest luxury travel and hospitality trends from Galhotra and Cardoso, guests had the opportunity to check out the new 2018 Lincoln Navigator, which debuted at the New York Auto Show.
The new partnership will bring Lincoln's "warm, personally crafted and effortless experiences" to the Montauk hotspot this summer. Lincoln x Surf Lodge will engage Hamptons bound luxury travelers in new, innovative ways and offer access to some of the season's most exclusive, hottest happenings.
Lincoln x Surf Lodge highlights will include exclusive access to the Lincoln x Surf Lodge concert series, which will feature ten performances - including shows headlined by Lukas Graham and Bob Moses, and the custom "Lincoln Bedroom" at the Surf Lodge (available for select guests from Memorial Day through Labor Day) that was inspired by the new Lincoln Navigator Black Label Yacht Club theme. Hotel guests will feel at home in the Hamptons as they embrace the relaxing nautical inspired design.
Posting Rules

You may not post new threads

You may post replies

You may not post attachments

You may not edit your posts

---

HTML code is Off

---