2010 Mazda3 on Mazda USA website
---
Introducing the All-New 2010 Mazda3 4-door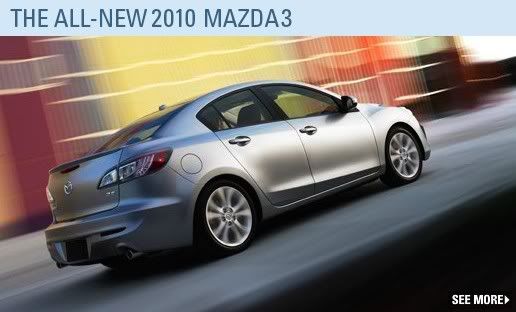 Mazda delivers yet another exhilarating driving experience with the all-new 2010 MAZDA3. As Mazda's global best-seller*, the current MAZDA3 was the foundation for a dedicated worldwide team of engineers and designers to take the car to the next level.
The all-new, fully redesigned 2010 MAZDA3 features advances in performance, fuel economy and safety. Add in a more powerful, yet quieter drive, aggressive design and a load of sophisticated amenities not usually found in the compact segment, and the all-new MAZDA3 delivers everything you could ask for in a compact sports sedan.
Look for the world debut of the all-new 2010 MAZDA3 at this year's LA Auto Show†, with a MAZDA3 five-door hatchback to follow. Want more news as soon as it's released? Sign-up below and you'll receive updates as further details become available.
* Currently Mazda's top selling model globally, with one of the highest production volumes of any single model in Japan.
† Press days are November 19 and 20, and the public days are November 21 through 30, 2008.
2010 Mazda3 engine info
---
MotorTrend - 2010 Mazda3 To Get 167-Hp, 2.5L MZR Engine
Posted Yesterday 04:29 PM by Scott_Evans
Category: Auto News, Mazda, Los Angeles Auto Show, Mazda MAZDA3, Sedans, Midsize
Last month, Mazda dropped photos of the redesigned Mazda3 on the Web without any details, so we were forced to speculate on what changes might be lurking under the new sheetmetal. Today, just barely ahead of the official unveiling at the Los Angeles auto show, Mazda has sprinkled a few details onto the Web to whet our appetites, the most significant of which is the inclusion of the 167-hp 2.5L MZR engine.
In our first look at the new Mazda3, we speculated that engine options would likely included a 2.0L inline four-cylinder producing about 150 hp and a 2.5L four-cylinder we knew little about. Now that we know the 2.5L engine will produce 167 hp, we're curious to see what the final numbers on the smaller mill will be, as it wouldn't seem to make much sense to offer two engines with a difference of only 17 hp.
For that information, we'll have to wait one more day. For now, Mazda also released a few other interesting tidbits. On the mechanical side of things, the all-new Mazda3 will have adaptive, self-leveling, bi-Xenon headlights, a claimed class-leading 0.29 Cd, and claimed class-leading noise levels in the cabin. Driver amenities will include keyless entry, push-button starting, Bluetooth cell-phone and portable audio player integration, a "strategically placed" driver information center, power seats with memory, and a 10-speaker Bose Centerpoint surround-sound audio system.
Mazda says only the sedan model of the Mazda3 will be at the Los Angeles auto show. The hatchback version is expected to make its debut shortly thereafter.
Source: Mazda
(so quoted completely
)
more 2010 Mazda3 info - Jalopnik / AutomobileMag
---
Jalopnik - Mz3 info & Gallery!
AutomobileMag
...
Swiveling Headlights! Oh, My!
Mazda boasts that the 3 is a compact car that offers many of the features available only in larger, more expensive cars. And indeed it does, with a fully loaded 3s Grand Touring offering class-exclusive
swiveling bi-xenon headlights
, a 10-speaker Bose Centerpoint surround system, dual-zone automatic climate control, and an
eight-way power driver's seat with memory function
...
Re: more 2010 Mazda3 info - HATCH - MotorTrend
---
camo Hatchback spied - MotorTrend
guess the only question for me is how the extended roof will blend with the new sheetmetal's lines
hmm... this
is
Mazda = won't be any problem
&
Re: 2010 Mazda3 on Mazda USA website
---
---
2012 Ford Mondeo Titanium 2.0 SW Moondust Silver 5spd manual
2014 Ford Kuga Titanium 1.6 EcoBoost AWD Panther Black 6spd Auto