Mercury C557
Join Date: Mar 2007
Location: N NW of Atlantis (Reno)
Posts: 20,065
nextgen large Jag?
---
catching-up/background...
2019 Jaguar XJ: "Stunning outside, luxurious inside" - Ian Callum
AutoCar.co.UK
by Hilton Holloway - 23 April 2016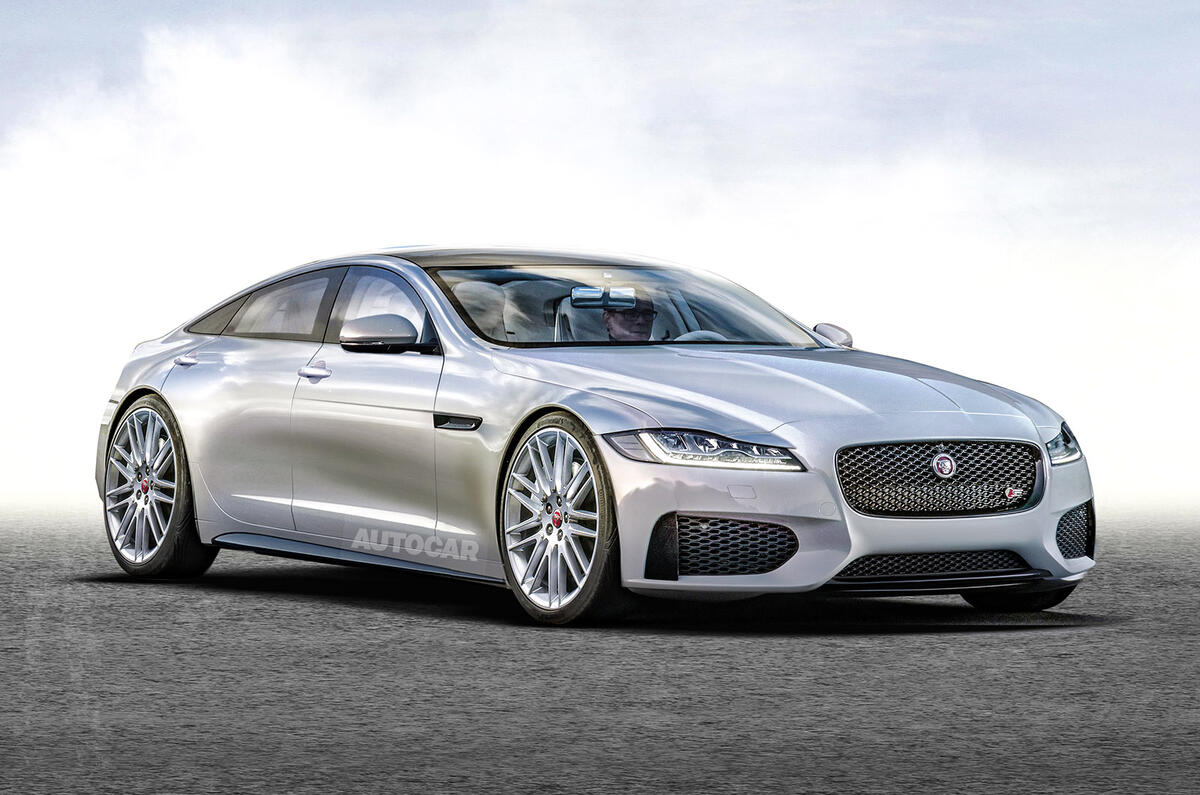 The next-generation Jaguar XJ, expected to be launched around 2019, will be "something that is visually stunning on the outside and luxurious inside", according to design boss Ian Callum.
Jaguar Land Rover is believed to have hotly debated the new XJ as it evaluated how to develop a flagship design for the next generation of cars while boosting sales in a class dominated by the Mercedes-Benz S-Class. Discussions are understood to have swung as widely as dropping it from the line-up and developing a large SUV, to sticking with an ultra-conventional saloon.
Callum said the next generation could have a higher roofline to improve the rear packaging, but other changes could be more "nuanced". The decision to stick with a saloon is said to be motivated by it still being recognised in most markets as a key differentiator of premium brands.
"The XJ today isn't a traditional limousine," said Callum. "It balances style, performance and comfort in a unique way. It's a car with many admirers and it's a car that establishes Jaguar's credentials in quite a cool way.
"We could address head room, but other changes could be more detailed. We have a cool car. We don't want to lose that."
XJ to live on as super-luxury hybrid
After months of debate Jaguar bosses have finally pushed the button on reinventing the XJ as an "indulgent, super-luxury" car.
The new XJ is likely to feature mixed-materials body construction, a new-generation V6 hybrid drivetrain, an entirely fresh look for the interior and much more of the technology needed for connected and autonomous driving.
It's expected to arrive in showrooms in spring 2019 and a concept version could be seen in 2018, the 50th anniversary of the original XJ. The image above shows Autocar's expectations for the model.
According to inside sources, the debate on how to replace Jaguar's flagship model was wide-ranging. Some in the company thought the XJ could be remade as a kind of super-SUV similar in concept to the Range Rover Sport.
Others proposed an end for the XJ, believing the investment in a large saloon to take on the Mercedes-Benz S-Class might not make a sound business case. Sales of today's XJ have risen steadily to 20,000 units per year, but that's only a fraction of S-Class sales.
It was also suggested that the latest XF had undermined the case for the new XJ to be a conventional big saloon. Today's XF, which is based on the latest D7a aluminium architecture, is marginally more spacious than the current seven-year-old XJ...
quite a bit more...
- - - - - - -
Jaguar XJ's Future Uncertain (...again?)
Motor1
By: Steven Ewing, Managing Editor - Apr 12, 2017
Stagnant sales and a focus on crossovers could render Jag's flagship XJ unnecessary...
It's a good time to be Jaguar. And when you talk to David Larsen, general manager of North American product management, he's positive and passionate about the full line of vehicles. But not necessarily the XJ.
Speaking to Motor1 at the New York Auto Show, Larsen is excited about Jaguar's growth in the United States. The XE and XF get new four-cylinder engines for 2018, and the XE adds an S model. The F-Pace is the brand's best-selling vehicle, and that momentum is only increasing – today, in fact, F-Pace was named World Car of the Year. The F-Type continues to captivate sports car shoppers, and adds a 2.0-liter turbo-four engine for 2018, which Larsen says will only "increase [its] attractiveness." But when we asked about the XJ – and specifically, its future – that's where the excitement seemed to stop.
"We had a facelift with 2016, so it is approaching the end of its lifecycle," Larsen said of the flagship XJ. "We're looking at, you know, future opportunities of where that could possibly go." When we followed up with a question directly asking if a new generation of the XJ is in the works, Larsen simply told us, "I can't confirm or deny" anything related to that.
---
Last edited by 2b2; 04-15-2017 at

05:20 PM

.
Re: nextgen large Jag?
---
That rendering is absurd, visually stunning to be sure, but there is nothing luxurious about 5' tall and larger people having to sit with their heads cocked to one side to fit!
Focus RS WRC
Join Date: Dec 2014
Location: Newport News VA
Posts: 688
Re: nextgen large Jag?
---
I'm really wondering if there will be a next gen XJ. Jaguar wants to focus on adding more SUV/CUV to the lineup as sedan sales are dropping. A drop in sales for segment is tough when the vehicles doesnt sell in large numbers anyways.
Focus RS
Join Date: Sep 2016
Posts: 232
Re: nextgen large Jag?
---
It makes you wonder what the future of large luxury sedans is but China is certainly propping up these type of vehicles. I think the margins and customer will sustain large luxury sedans longer than mass market sedans. Small luxury sedans will probably focus mostly on performance and sport while consumers looking for anything else will move into Crossovers or even Electrics. There will always be room for flagship sporting cars among those flagship marques like Jaguar.
Mercury C557
Join Date: Mar 2007
Location: N NW of Atlantis (Reno)
Posts: 20,065
Re: nextgen large Jag?
---
just-imho
I look at the 1percenters of the planet (including their 'spawn')
&
believe they'll want an uberLux sedan (or 10) to go with their exotic sportscar(s)
du jour.
And
think the 90-percentile rich-folkers(mis-spelled deliberately) will want to 'ape' them
so
a fluctuating group of panderers/mfgs will supply their 'need'.
but then, I'm a defender of Choice[s]
so hope the occasional, un-herd-like (nonCuv)
trickles down
Re: nextgen large Jag?
---
Quote:
That rendering is absurd, visually stunning to be sure, but there is nothing luxurious about 5' tall and larger people having to sit with their heads cocked to one side to fit!
Agreed about the idea.....I'll go one further and say I really don't think the rendering is that visually stunning either.
---
Current Vehicle:
2009 AWD Flex Limited
Light Ice Blue/White Suede Roof | Med. Lt. Stone Interior | Vista Roof | Navigation | PowerFold™ 40/40 2nd Row/Console | Refrigerator | Aftermarket dual headrest DVD System | PowerCode™ Remote Start | Towing Package | 22" Edge Sport wheels