Focus RS
Join Date: Oct 2008
Location: Connecticut
Posts: 206
1958 Edsel brochure
---
these are scans of an original Edsel brochure i have-the first year of Edsel production, and the most distinctive in design, imo. if i remember correctly, i bought 2 of these pamphlets at a Hemmings car show/flea market about 20 years ago. i sent one to a friend of mine in the UK that is a freelance writer for several vintage car magazines over there, and kept one. it's a 4 page large format and took 8 scans to piece together, which is why it's a bit disjointed in places. enjoy.
cover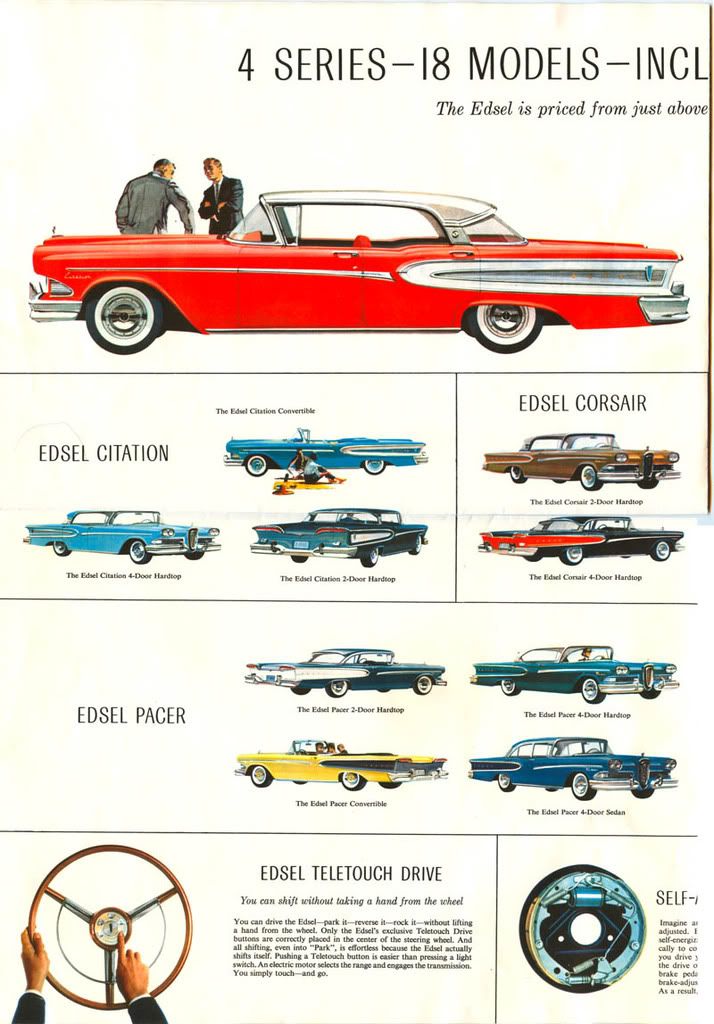 inside left page

inside right page

back cover

Re: 1958 Edsel brochure
---
I love looking at vintage brochures like this thanks Artandcolour. The Edsel was certainly one of a kind.
---
[SIGPIC][/SIGPIC]

MERCURY SABLE 1986-2009
Re: 1958 Edsel brochure
---
That is awesome, for a bronchure. Extremely well preserved. Ford has an extremely great innovation history
---
Re: 1958 Edsel brochure
---
Thanks for sharing. The Edsel certainly is a great chapter in the American automotive history as well as a painful reminder to what happens when: (a) Ford tries to be as big as GM and (b) What happens when you launch a whole new car division in the middle of a recession.
---
Mercury C557
Join Date: Mar 2007
Location: N NW of Atlantis (Reno)
Posts: 20,065
Re: 1958 Edsel brochure
---
ditto the THANKS, artandcolour
&
in addition to the bad timing Economy-wise,
imho it may have been a very different story a bit later, say 1964-6,
styling/packaging-wise...
The Industry
HAD
gone thru a couple sea-changes already, breaking out of the pre-war forms into what I think of as the (Hudson)'bathtub' styling...
and then over-blown&finned 'land-yatchs'...
Can't help but wonder what Edsels could have been
Post-
the Renaissance of Continental-Tbird-Mustang(and want to add --RIVIERA),
that in my mind, created the modern car Form < which has not yet been supplanted ...only refined in the following 40+ years (imho)!!
instead of
intro'ing at one of the most far-out swings of the styling pendulum
Re: 1958 Edsel brochure
---
Thank you for sharing that-that was great!
I'd like a 9-passenger Bermuda please,
and a Pacer 4-door hardtop to go along
with it. 4-door hardtop-that's such a great idea.
Re: 1958 Edsel brochure
---
Thanks for sharing .
---
1999 Lincoln Town Car
Former Vehicle:
2005 Lincoln LS V8 Ultimate