Re: Save(/repatriate) MOPAR!
---
I don't know FCA stuff (esp Yurp stuff) well enuf But
something on another forum has me wondering if a Tesla-production could serve for any of the long-standing FCA brands too...
...electrified Maseratis? or ...?
Re: Save(/repatriate) MOPAR!
---
Quote:
...I understand why they're doing it, but Maserati is one of those brands that just shouldn't go the SUV route, it just feels sacrilegious.
I wonder if the MOPAR badges coulda been only CUVs in Yurpland
to supplement the Italian "fossil" car-brands like GMC supplements Buick in the U.S?
Re: Save(/repatriate) MOPAR!
---
swiping from
Ed753 @ GMI
&
referencing the above foto
Fiat Chrysler to cut 1,300 jobs in first layoff since 2009
by Chris Isidore @CNNMoney
April 6, 2016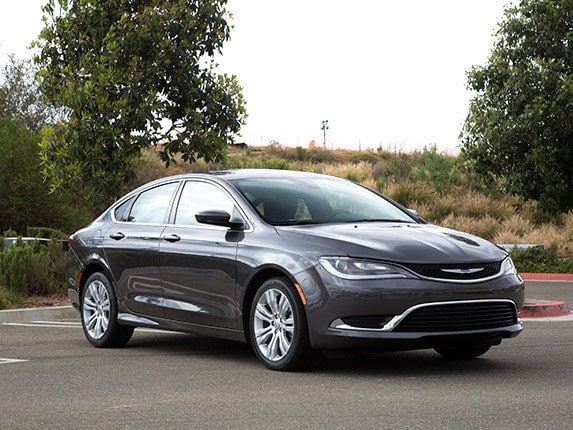 Fiat Chrysler will cut 1,300 jobs from a Detroit-area auto plant, the first permanent layoff at a U.S. auto plant since the crisis days of 2009.
The workers losing their jobs at the Sterling Heights, Mich., plant build the Chrysler 200, a midsize sedan that hasn't fared well.
Sales of the 200 are down 63% so far this year compared to a year ago. Low gas prices have fueled a shift by American car buyers away from sedans to crossovers, SUVs and pickups. Sales of those truck models are up 10% so far this year, while car sales are off 4%.
"So many buyers are shifting to [trucks] that there isn't any room for a relatively solid midsize sedan that could have survived only a few years ago," said Karl Brauer, senior analyst with Kelley Blue Book.
(Story Continued at link)
- - - - - - -
thinking of trying a Chrysler 200"wagon"/plus-sized-Macan tomorrow...
...OR maybe based on the Model X?
---
Last edited by 2b2; 04-07-2016 at

03:53 PM

.
Re: Save(/repatriate) MOPAR!
---
quickie...definitely no rear headroom problems
Chrysler C250
Ford Kuga
Join Date: Sep 2007
Posts: 1,787
Re: Save(/repatriate) MOPAR!
---
GM could benefit taking Jeep and selling it alongside GM. The new Pacifica could be used at Chevy/Buick. The rest will be impractical and unprofitable in a few years.
---
The early bird gets the worm..but the second mouse gets the cheese.
Re: Save(/repatriate) MOPAR!
---
article I'll use for a FCA+Tesla+Apple nightmare/phantasm...
What if Elon Musk ran Apple?
LinkedIn-Pulse
Vivek Wadhwa - May 1, 2016
...Apple has reportedly been developing an electric vehicle because it sees a car as an iPhone on wheels. It is conceivable that it will demonstrate something like this in the next five to 10 years...
...Apple should buy Tesla and appoint Elon Musk as CEO...
...A combination of an operations executive such as Cook and a visionary such as Musk would be formidable. Apple's vast resources would allow Tesla to scale up his operations to deliver the nearly 400,000 orders it has received for the Model 3. Tesla would be able to leverage Apple's global distribution network and incorporate many new technologies. Musk would be able to pursue his dream projects while Cook worried about delivery and detail.
And Cook would get the visionary that Apple badly needs ... The markets would rejoice and take Apple stock to a level higher than anything it has seen before. Consider that Tesla's market cap of $33 billion is eminently affordable by Apple, which has reserves of more than $200 billion. And Apple lost $47 billion in valuation with its earnings announcement Tuesday, which is more than it would likely cost to acquire Tesla...
- - - - - - -
ie what if Apple buys Elon
and
Mopar?

...I'd throw in letting them run roughshod over trimming the dealer network
- - - - - - -
THIS JUST IN...
Tesla bold production plan brings out skeptics, shares fall
CTVnews.com / The Associated Press
May 5, 2016
DETROIT -- Once again, Tesla Motors is staring down the naysayers.
CEO Elon Musk's surprised investors Wednesday with a promise to make 500,000 cars per year by 2018, two years ahead of plan -- a brash projection given that Tesla has missed smaller production targets in the past.
Auto industry analysts balked. Many doubt that Tesla has the cash, plant capacity or manufacturing expertise to pull off those numbers...
.
---
Last edited by 2b2; 05-08-2016 at

03:00 PM

.
Re: Save(/repatriate) MOPAR!
---
still on my Chryco repatriation rant,
a couple posts at a couple forums produced a question...I (not quite)hestitate to ask
:
Bob Lutz On Tesla: "I believe the whole house of cards is going to collapse."
Road & Track magazine sorry, no webLink provided
October, 2016; Page 110

Question to Bob Lutz: Do you think Elon Musk has his sights set on a bigger game than car manufacturing? That he may view Tesla as a first step on the road to becoming a supplier of electricity via widespread Supercharger stations?

Answer from Lutz: Contrary to the Musk-besotted faithful, I believe the whole house of cards is going to collapse. Model S sales have slowed dramatically in recent months. The model X appears to refuse to let itself be built. The battery Gigafactory is a white elephant, and at press time, Tesla has announced a deal to buy the cash-hemorrhaging SolarCity, putting two gigantic money eaters together and hastening the ultimate catastrophe. I don't know what Musk's megastrategy is or if he even has one. Two things are sure: He knows how to enthuse people and get their money, and he doesn't have a clue about actually running a car company.

& ...
from a thread about the new Jeep Compass
Looks like FCA's focus is solely on Fiat, Alfa, Jeep and Maserati. It is obviously letting Dodge and Chrysler starve so it can eventually kill both brands. I have no idea what it may decide to do to the Ram brand (which looks like was turned into a brand only so FCA could euthanize Dodge). Idk... Marchionne may decide to sell Ram...


Chrysler 300 replacement has been put on hold indefinitely.

As of today, Dodge is getting a trio of Charger-based vehicles: the Charger, the Challenger, and a dedicated convertible supposedly using another heritage Plymouth name. They're also getting a new Durango and Journey. All five vehicles are based on the RWD architecture of Alfa Romeo.

Of course, this could all change tomorrow...
______________________________________________
wondering about
(esp. if Tesla falls)
someone nationalizing all domestic FCA assets and restructuring a re-Brand?
Re: Save(/repatriate) MOPAR!
---
last weekend went to our local dealer-run mini-autoshow ...always good for ideal lineup inspiration(s)
Yesterday
(GM rumor: LINK)
, I was thinking of how to
break-up
FCA globally...or at least in N.A & Yurpland
( & maybe pulling/kicking GM out of China ... therefore deleting Buick, globally, except for under Chinese ownership )
Today, found the
Oooooold thread with my solutions to the "Chrysler Conundrum", circa 2008!!
&
tried looking up the Vauxhall(Opel in English) and Dodge websites...
NEITHER of which made much sense to me
:
• VauxOp not having their complete lineup showing - at least not on any-one page
• Dodge showing a 7 model mishmash, several of which are DEAD-or-good-as afaik
so started trying to think about just WHAT a lineup could consist of...
5 sizes

tiny
small
medium
family
large
All as Cuvs / most as semi-Cuvs(Crosstrek,X4,X6) / some as carCars / & maybe one actual wagon
with
some (1st 4?) as mainstream/premium and some (top 3-4?) as lux-ish
fixations
:
- preserving old/historic BrandNames by using them as single-model labels ((maybe as trims?
:
- "Lancia" instead of 'Giulia"
or
as a Lux-Giulia?))
- having the same model use different BrandNames in different markets
ex
:
U.S.300 being Ī90% yurpland Maserati (if Not Tesla-) Quattroporte (-S) & viceversa
_current L/wlb___modularized__________
192.3 - 108.0 ---- 193.0 - 113.5 - Chrysler 200( & 200Xc)
196.0 - 116.5 ---- 196.0 - 116.5 - Tesla-S
(Chrysler 250V wagon?)

198.6 - 120.0 ---- 199.0 - 119.5 - Chrysler 300( & 300Xt)
207.2 - 124.8 ---- 205.0 - 122.5 - Maserati Quattroporte
dunno if I know enuf about Brands-markets-issues to go much further...
.
---
Last edited by 2b2; 02-15-2017 at

06:43 PM

.