2018 Toyota Camry: Made in America
---
2018 Toyota Camry: Made in America, great again
New style, new engines, new focus on driving dynamics.
Autoblog
Even as SUVs and crossovers are taking a bite out of sedan sales, the Toyota Camry still managed to be the best-selling vehicle in 2016 without a truck bed. Impressive, given that it was in the seventh and final year of its current design. And doubly so considering that it was design that was never exactly at the forefront of style, innovation or, critically, the midsize sedan pack.
Imagine, then, what the all-new 2018 Toyota Camry unveiled here in Detroit may be able to accomplish. It represents a fundamental shift for the Camry, from its obviously bolder styling and its reimagined dimensions, to the way Toyota says it will be more involving behind the wheel.
It is 0.7 of an inch wider, the wheelbase is 2 inches longer, the roof and hood height have been lowered by 1 and 1.6 inches, respectively, and the front and rear hip points have been lowered by a similar amount. The result of those dimensional changes should be a feeling of sitting in the Camry rather than on it. The steering wheel also now telescopes further (applause from the tall folks in the back), and the hood, cowl and dashboard have all been lowered to maintain visibility.
Read more...
Re: 2018 Toyota Camry: Made in America
---
"Beyond appearances, Toyota calls the TNGA platform that underpins this Camry "a structural reform movement for the entire company that will result in cars that are more dynamic, athletic, and fun to drive." It also claims that, with the new building blocks, "drivers will notice the dramatic improvements within the first few seconds of driving." Given that previous generations of the Camry evolved so subtly, that's a bold pronouncement. But, based on the level of improvement we've seen in the latest, fourth-generation Prius—the only model with that platform to make it to production so far—we'll take it seriously."
http://www.caranddriver.com/news/201...-and-info-news
Mercury C557
Join Date: Mar 2007
Location: N NW of Atlantis (Reno)
Posts: 22,734
Re: 2018 Toyota Camry: Made in America
---
@
Bloggin
for posting ... ... couldn't bring myself to
...actually very curious about seeing that interior in person
(well, not red...)
swiped via CarSpyShots: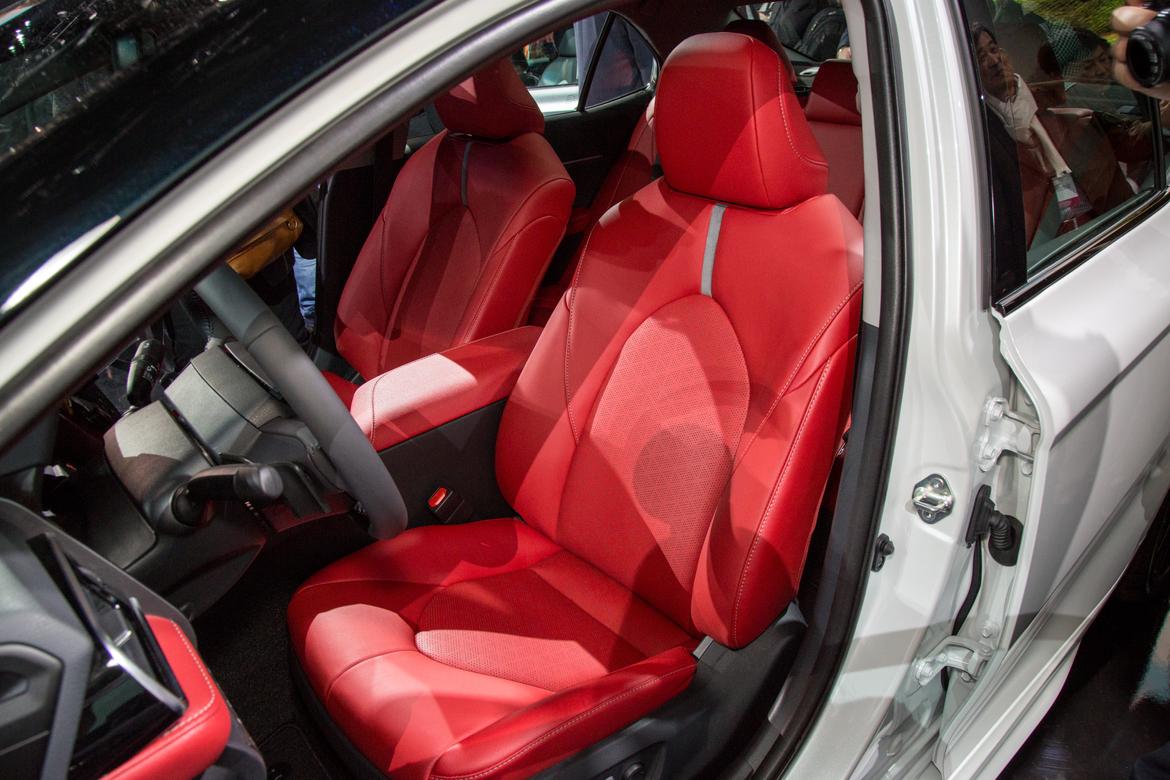 ---
.
To view links or images in signatures your post count must be 0 or greater. You currently have 0 posts.

---
Last edited by 2b2; 01-09-2017 at

09:38 PM

.
Re: 2018 Toyota Camry: Made in America
---
One of the better designs to come out of Toyota/Lexus in some time, even so I don't care for it.
Ford Sport Ka
Join Date: Mar 2014
Location: American South
Posts: 37
Re: 2018 Toyota Camry: Made in America
---
To my eyes, there's something awkward about the rear doors and the C-pillar. But maybe it will grow on me...
Re: 2018 Toyota Camry: Made in America
---
Big improvement over the previous one, but the styling still needs some cleaning up.
Toyota: Making Sedan Rooflines Low Again?
I like how Toyota is lowering the rooflines, hoods, trunks and beltlines of their new models (New Camry, New Lexus LS) without sacrificing interior space.
The new 2018 Camry has about the same overall height as the last gen Fusion sedan
, one of the last Ford sedans with a height of under 57 inches.
---
Last edited by AM222; 01-10-2017 at

07:25 AM

.
Re: 2018 Toyota Camry: Made in America
---
The first Camry that i actually like it. Bold, modern, different.

I love the "two tone" paint work in the white car, the body in white and the roof and C pillar in black. I hope more automakers will play with this trend in the future.

I hate the grille in the red (sport versión?) car. Is a modified Lexus "Predator" grille with some differents details, but the shape is the same. Is a shame... The rest of the car is very atractive.
---
_________________________________________________
Re: 2018 Toyota Camry: Made in America
---
I don't like it.... (I know, big surprise.)
BUT ... it would seem Toyota is designing these with NASCAR in mind ... or am I the only 1 to get that vibe looking at the photos? That rear deck, specifically the spoiler area, reminds me of the "round" Tauruses.....
Cort,
www.oldcarsstronghearts.com
pig&cowValves.paceMaker * 1979 CC to 2003 MGM + 81mc
"No good news in the news this morning" | Lacy J Dalton | 'Black Coffee'
Posting Rules

You may not post new threads

You may post replies

You may not post attachments

You may not edit your posts

---

HTML code is On

---