Re: 2021 Ford Ranger?
---
Quote:
Headlights look very fordish, doesn't look like all this new Chevy mess at all.
It's the almost full-width chrome horizontal bars that give it a slight Chevy feel at first glance but I do see F-series styling cues on the front end.
I have to admit, it looks interesting.
I also noticed that the basic cab looks like it's based on the current one but with new skins that add prominent creases and folds to the sides. The bottom of the rear side window has a slightly different shape but it looks like it could be using the same glass.
---
Last edited by AM222; 02-25-2019 at

12:00 PM

.
Focus RS WRC
Join Date: Dec 2012
Posts: 866
Re: 2021 Ford Ranger?
---
I suspect that this is just somebody's rendering. Might even be from an anonymous Ford designer but the logo up front is covered up. Could be close to the next-gen design or not. It's a nice tease, though.
Focus RS WRC
Join Date: Apr 2012
Posts: 528
Re: 2021 Ford Ranger?
---
Perhaps this also tells us how stupidly similar the design languages are between the 2 brands ... despite the resulting trucks looking different ... all the cars/trucks just look alike.
Re: 2021 Ford Ranger?
---
Quote:
I suspect that this is just somebody's rendering.
It could actually be a clay model. Looking at the details, it has no side mirrors and its front wheels are on dollies (probably so it can be moved around or pushed out of the studio to see how it looks like in natural daylight).
---
Last edited by AM222; 02-24-2019 at

07:35 AM

.
Ford Flex
Join Date: Sep 2007
Posts: 2,270
Re: 2021 Ford Ranger?
---
Those vertical plastic pieces covering the front bumper and going to the headlights would not make it to the US. After a specific re-design to an all steel bumper, this would not work here, in fact it would be a terrible idea, as it looks like it is attached to bumper, body, and outlines the headlights. One bump and the things crack up.
---
"It is a capital mistake to theorize before one has data. Insensibly one begins to twist facts to suit theories, instead of theories to suit facts."
Sherlock Holmes
Re: 2021 Ford Ranger?
---
Well, if Jalopnik is correct, we have confirmation.
https://jalopnik.com/that-apparent-f...rds-1832882073
Dear Mr. George,

We are outside counsel to Ford Motor Company ("Ford"), which asked us to contact Jalopnik and ask for its voluntary agreement to take down copyrighted images of a Ford automobile, which are displayed at the following URL:

Attached is a screenshot on which the photos have been circled.Ford did not authorize release of the photos, which Ford has strong reason to believe were released in violation of a non-disclosure agreement.

Please let me know if there is anything else that you need in order to consider this request. Ford asks Jalopnik to remove the photos as soon as possible and by no later than February 25, 2019.Thank you for your attention to this matter.

Best regards,

REDACTED | Attorney
The attached screenshot, with the Ford pickup nice and big and circled, was helpful: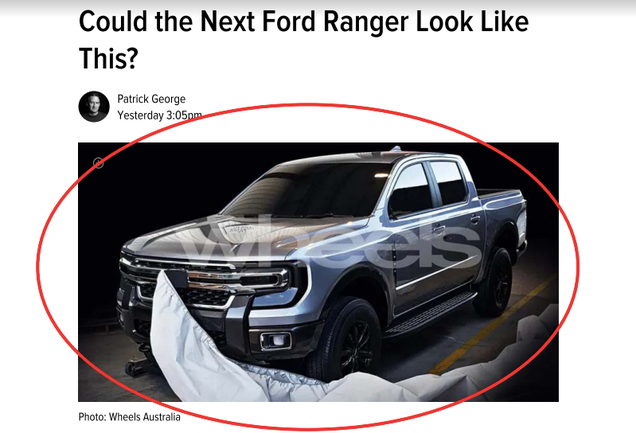 ---
Rod

2017 MKX 2.7T Black Label
2017 GLC300
2016 GTI
Re: 2021 Ford Ranger?
---
Ok. Then, confirmed. Is the next Ranger

Good
---
_________________________________________________
Re: 2021 Ford Ranger?
---
It had better look MUCH better in the metal, because I find that pic to be utterly fugly.
---
If GM can justify Buick, and if Honda can justify Acura, we can damned well have Mercury back.
Re: 2021 Ford Ranger?
---
It's far too soon, so this is early concepting is all. It may take some cues I bet, but doubtful it is close.
Re: 2021 Ford Ranger?
---
I hope it's fairly representative. I rather like it. And the fact that it wasn't immediately recognizable as a Ranger is a good thing. The last thing I want to see is a mild evolution of the current model, or worse a 7/8 scale F-Series.

Off topic, but I wonder if there's ever been serious consideration of a Super Duty Ranger? A model with beefed up frame and suspension providing slightly higher tow and payload ratings? If it was ever discussed, I presume it was nixed because of the price/capability overlap with the F-150. I'm sure there's a market for such an offering, but it's likely a relatively small one.
---
Rod

2017 MKX 2.7T Black Label
2017 GLC300
2016 GTI