Temporarily Stationary Mobility? ...the Mall is SYNCing?
---
Media.Ford.com | Apr 18, 2017 | DEARBORN, Mich.
Ford Converts Nearly a Quarter-Million Square Feet of Unused Mall Area into New Workspace
• Ford converts 240,000 square feet of unused shopping mall space into modern new offices for its engineering and purchasing teams
• Ford's new Town Center Office is a unique workspace focused on wellness and collaboration for approximately 1,800 employees; sustainability built into the design of the all-new workspace
• New space is part of Ford's Dearborn campus transformation of the company's more than 60-year-old facilities
DEARBORN, Mich., Apr 18, 2017 – For more than 40 years, Fairlane Town Center Mall has served as a major retail hub in Dearborn, Michigan. It is one of the state's largest malls – at one time housing more than 220 retailers including five major department stores, restaurants, even an ice rink. Only three major department stores now remain, and Fairlane's biggest tenant is a global automaker.
Ford Motor Company has converted 240,000 square feet of unused mall space, formerly occupied by as many as 26 retailers, into its new Town Center Office. The redesign creates a modern office space focused on wellness, collaboration and sustainability for 1,800 Ford engineering and purchasing employees.
As technology redefines how consumers shop, malls are reinventing themselves to offer not just retail and dining experiences, but community gathering areas, entertainment venues and office centers. Rita Nelson, Fairlane Town Center general manager, says that in addition to retail, dining, entertainment and mixed-use opportunities, malls offer campus and office space solutions for nontraditional tenants.
"Retail has shifted so much over the years and Fairlane is no different," said Nelson. "We have more than 125 stores and restaurants but like much of the industry, we have expanded to include other opportunities."
Ford's Town Center Office is helping to house larger operations to support the company's 10-year Dearborn campus transformation, which will colocate 30,000 employees from 70 buildings into primarily two campus locations.
"As we began the 10-year process of constructing new technology labs and offices, we needed an innovative solution to situate larger teams close to our operations," says Dave Dubensky, chairman and CEO, Ford Land. "The proximity and design of Fairlane Mall, along with its on-site amenities support our transformation in offering multiple conveniences for our employees. It is a win-win for us and the community."
A focus on collaboration, wellness, sustainability
The new office complex is designed to promote more team collaboration and to keep employees physically energized, mentally stimulated, engaged and refreshed. Ample lounge space and cafés encourage movement, offering flexibility in terms of where employees choose to work each day. Wellness rooms, as well as reflection rooms for prayer and meditation encourage employees to take breaks to recharge. The space also features lactation rooms for nursing mothers.
Walk-up stations for working are included in the new footprint. Employees can access a treadmill desk and walk at a 2 mph pace while returning email, taking a call or working on other tasks. Designed around movement, the space promotes wellness by helping people feel healthier, more energized and accomplished while burning a few calories in the process.
Personal work areas are more open to encourage collaboration. Ergonomically designed workstations feature adjustable-height desks that offer a custom fit, along with the ability for employees to change posture throughout the day to promote energy and stimulation.
Materials have been carefully selected to foster employee wellness and sustainability. The new visitor lobby features an accent wall of reclaimed wood, while carpet made from recycled content is fully recyclable at the end of its lifecycle. Zero volatile organic compound paint is used throughout the space.
"I was both hesitant and excited about the move," says Natalie Pohlman, a Ford College Graduate and supplier technical assistance site engineer who recently relocated to Ford's new Town Center Office. "Since moving in, I've met a lot of new people. Having the team in one place, along with access to all of the collaboration space has made it easier to work together."
- - - - - - -
imho, they need to make it look just a little bit more like a Google environment

---
.
To view links or images in signatures your post count must be 0 or greater. You currently have 0 posts.

---
Last edited by 2b2; 04-18-2017 at

10:39 PM

.
Re: Temporarily Stationary Mobility? ...the Mall is SYNCing?
---
just cuz it's about an 'architecture' ... other than cD6 ... afaik
University Of Michigan To Name Robotics Building After Ford Motor Company
FordAuthority — by Aaron Birch — Apr 21, 2017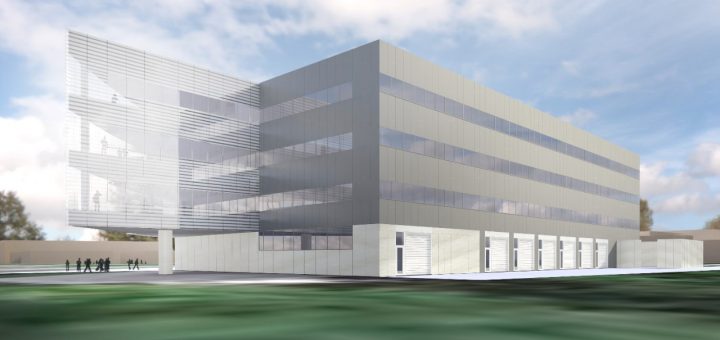 The University of Michigan in Ann Arbor will name a new robotics laboratory after Ford Motor Company, after Ford donated $15 million of the total $75-million cost for the facility.
The future Ford Motor Company Robotics Building – a 140,000-square-foot, four-story research laboratory – is projected to open in late-2019. Ford will send roughly 100 researchers and engineers to work in a fourth-floor laboratory there, in the hopes of helping accelerate its autonomous-car research. The building will also house classrooms, offices, an open collaboration area, and lab spaces tailored to specific robotic technologies.
That's not even to mention plans for a three-story "fly zone" for the testing of aerial autonomous vehicles, a garage space for self-driving cars, and an outdoor obstacle course for testing walking automatons, U-M says. The new facility is being erected very near to the University's "MCity" simulated urban environment, which Ford has used to test its autonomous car prototypes in the past.
"At Ford, we have a robust plan to lead in autonomy," says Ford CTO and Executive VP of Product Development Raj Nair. "This investment accelerates our work by providing dedicated space for robotics research on the U-M campus."
.
---
.
To view links or images in signatures your post count must be 0 or greater. You currently have 0 posts.

Re: Temporarily Stationary Mobility? ...the Mall is SYNCing?
---
Originally posted by
theoldwizard @ BON
Posted Today, 07:53 AM
A lot of folks who do not live near Dearborn don't realize the ENORMOUS commitment Ford has made in Engineering Manpower and Facilities. The all new Research and Engineering Center is moving forward, even if that progress is not obvious. Parking has always been a problem when there is full staffing at R&E, so the first new buildings will be parking garages. They are working on those footing now, and the first one should be complete in 6-12 months.
Also, folks not close to Ford engineering/business operation, have probably forgotten that Ford cut about 33% of that workforce 10 years ago, just as the recession was rolling in. They continued on a path of "natural attrition" for several years after that. They have also cut engineering and business staff over seas, most notably in England.
About 18-24 months ago, Ford started hiring new engineering and business staff in Dearborn. They quickly exceed the capacity of the buildings that were available. They have renovated part of the old EEE/POEE building (now called Ford Research Laboratory) and have taken over a recent closed department store at the Fairlane Mall. Getting those people out of those building and into the new buildings (once they are built) IS a high priority, but will take years.
---
.
To view links or images in signatures your post count must be 0 or greater. You currently have 0 posts.

---
Last edited by 2b2; 05-02-2017 at

11:54 PM

.
Stationary Mobility ... #OccupyDearborn
---
Ford Breaks Ground On $60-Million West Dearborn Development
FordAuthority — by Aaron Birch — May 3, 2017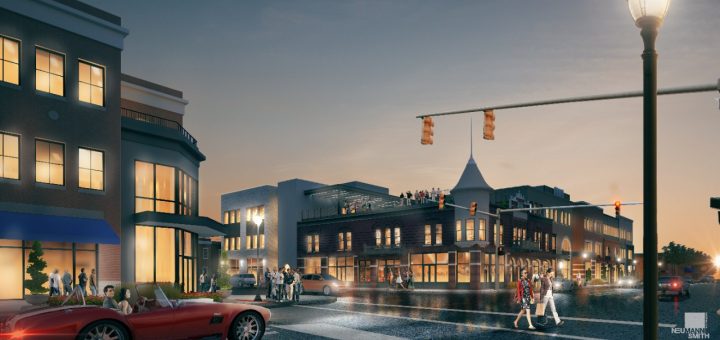 Ford Motor Company today broke ground on a new, $60-million development in West Dearborn dubbed "Wagner Place." When completed, the 150,000-square-foot space will have shops and restaurants on the first floor, with office space on the second and third floors, capped off with a rooftop patio.
Ford's Wagner Place has been designed for LEED (Leadership in Energy and Environmental Design) certification, with plenty of green space and
good walkability.
Around 600 Ford Global Data Insights and Analytics employees will be located on the site, which is within walking distance of Ford's product development campus – a collection of buildings soon to undergo its own dramatic transformation.
Wagner Place is named after the historic, 120-year-old Wagner Hotel that currently occupies the property. Ford will incorporate the restored facade of that local landmark into the new development.
"Developing an urban office environment positions Ford to offer a work setting that will appeal to a new generation of employees," said Ford Land CEO Dave Dubensky at the groundbreaking ceremony, where he was joined by Michigan Governor Rick Snyder and Dearborn Mayor John B. O'Reilly. "Wagner Place supports our goals to create a more collaborative and inviting campus atmosphere for all employees."
.
---
.
To view links or images in signatures your post count must be 0 or greater. You currently have 0 posts.