Discussion Starter
·
#1
·
via Aleksei of FFocused
Focus 1.0 Ecoboost Road Test - HonestJohn.co.UK
Tue, 14 Feb 2012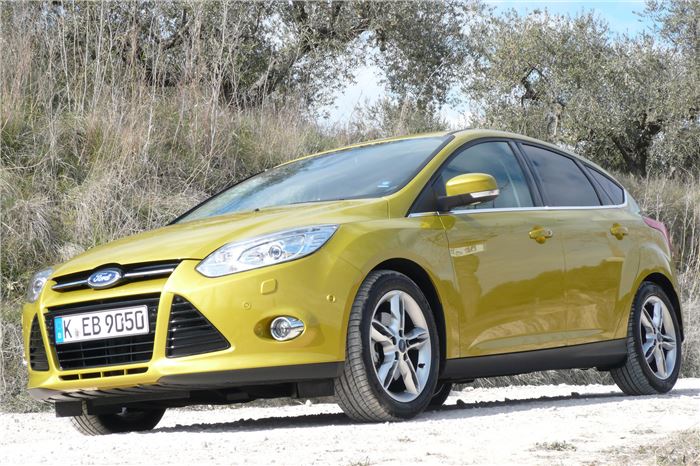 This is the engine we have been waiting for.
A 999cc turbo petrol that, with 125PS, boasts a higher specific output (that's output per cc) than even the new BMW 328i...
...There are two power outputs. The 100PS comes with a 5-speed gearbox; the 125PS with a 6-speeder. Prices from £16,245 for the 100PS Edge, rising through £17,745 for the 125PS Zetec to a not insignificant £21,845 for the 125PS Titanium X estate...
...The only version available for us to drive was the 125PS, on 205/50 R17 tyres, so all of the following refers to that.
First thing, at 97kg, the iron block 1.0 Ecoboost engine is 40kg lighter than the alloy block 1.6TDCI 115. Which takes weight off the front wheels, and allows ride-friendly spring rates as well as impressively sharp turn-in.
You immediately notice the torque. No need to rev the engine. (In fact, it doesn't like to be revved much.) You can make entirely adequate progress keeping the revs between 1,400 and 2,000, at which point a nanny finger waves you to change up. It's a bit like a Golf 1.4TSI 122. Sweeter and nicer to drive at low revs than a diesel. And pulls a 6th gear giving 30mph per 1,000rmm. Astonishing for an engine of just 999cc...
...The engine has some similar features to Mazda's SKTACTIV powerplants, not least of which is a water-cooled exhaust manifold and turbo housing built into the cylinder head. This acts as a heat exchanger to speed warm up of the engine from cold. And keeps the turbo at a sensible 1,100 degrees centigrade while it's spinning at its maximum speed of 248,000rpm. (Yes, 248,000rpm.) This means that while most petrol turbos require extra fuel to cool them, the Ecoboost turbo doesn't and the engine runs stoichiometrically. The centrally located injectors also avoid the phenomenon of bore washout from cylinder wall spraying. The small size of the turbo allows it to be very responsive. 0 – 90% of torque is developed in just 1.5 seconds with no turbo lag.
The timing belt runs in an oil bath, like a timing chain and apparently lasts the life of the engine. Despite just three cylinders, there is no balancer shaft. Instead, its function is carried out by a deliberate imbalance in the dual mass flywheel and a crank damper to remove pitch motion.
This brilliant new engine will find its way into the C-Max and the forthcoming B-Max by autumn 2012, and probably into the Fiesta next year where a CO2 figure of 87g/km has already been achieved...
- - - - - - - - - - - - - - - - - - -
crossrefernce: 1.6EB