Discussion Starter
•
#1
•
ALL-NEW LINCOLN MKC SMALL PREMIUM UTILITY ENGAGES SENSES AT CAFEINA WYNWOOD LOUNGE
Lincoln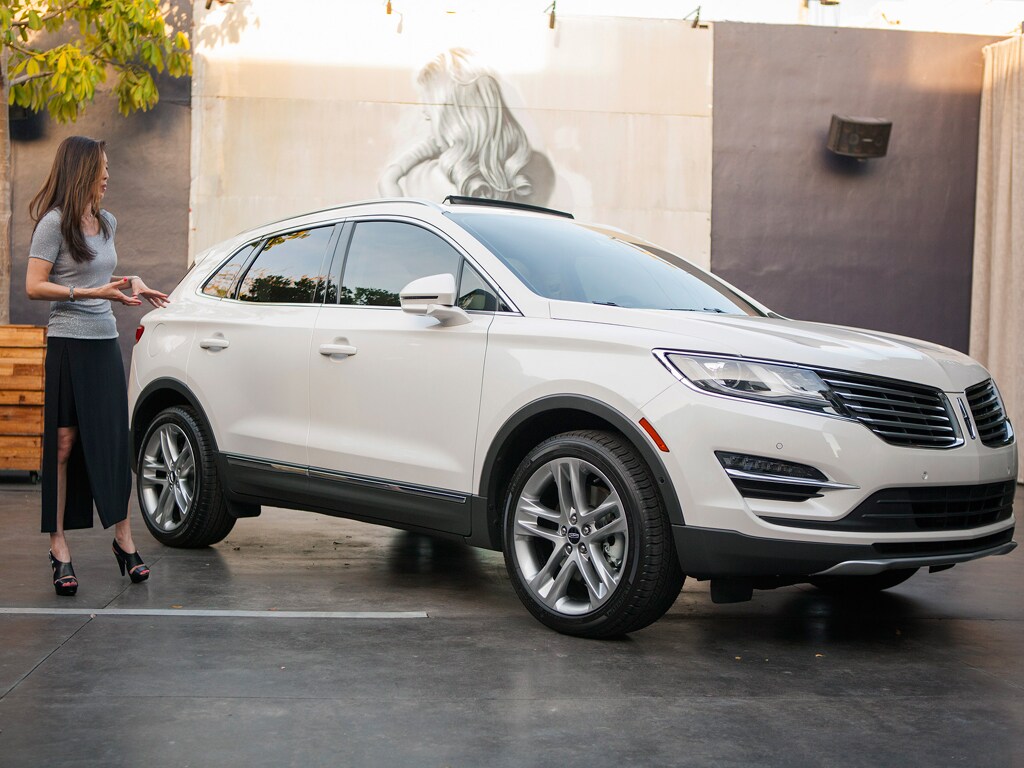 2015 Lincoln MKC, the brand's first small premium utility, leads a compelling conversation that explores comparisons between high-end cooking and luxury automotive design
- With each discipline, quality ingredients paired with meticulous preparation and more beautiful presentation lead to success

- Janet Seymour, Lincoln color and materials design manager, "assisted" celebrity chef Minerva Vazquez in preparing the evening's signature dish
The all-new 2015 Lincoln MKC, the brand's first small premium utility, was the main course during an evening of conversation, culinary delight and luxury automotive design Tuesday evening. The invitation-only media event was hosted by the Cafeina Wynwood Lounge in Miami.
Celebrity chef Minerva Vazquez, known for her appearance on season two of TLC's "Next Great Baker," and Janet Seymour, Lincoln color and materials design manager, compared the similarities between their two disciplines.
Each requires the use of quality ingredients in the right portions (or proportions, in the case of a luxury vehicle), combined with meticulous preparation and attention to detail, and topped off with beautiful presentation.
"Lincoln vehicles are designed to be warm, open and inviting," Seymour said. "This starts with fluid transitions from the exterior to the interior. The interior needs to reflect a natural, unified flow and is where the senses are fully engaged.
"Both a high-end chef and a luxury automotive designer have to immediately engage the senses of their customers to deliver a premium experience. The ingredients, of course, are different, but the meticulous execution, attention to detail and understanding the customer's expectations are very similar."
Just as portions elevate a dish from good to memorable, elegantly executed proportions differentiate luxury automobiles. The stance, height, width and package are designed to harmoniously complement each other. In the case of the Lincoln MKC, once the proportions were established, the vehicle's body was sculpted to convey an athletic grace. The lines add character and unify the vehicle.
"I am so glad I was able to be a part of this unique program," Vazquez said. "I definitely came away with better insight and understanding as to how a luxury vehicle is crafted."
Other similarities can be drawn between the presentation of a meal and a luxury vehicle. Where high-quality ingredients elevate an elegant dish, premium materials are used to make the seats, door trim and accent trim in a luxury vehicle more elegant.
A signature ingredient of the Lincoln MKC is Bridge of Weir® Deepsoft leather, created specifically for this vehicle. Deepsoft is naturally milled leather, which enhances its natural grain. Combined with a light finish, this creates a soft, buttery touch associated with only the most luxurious of leathers.
Other premium features available in the MKC that contribute to its elegance and luxury are authentic open-pore wood trim throughout the interior, a new Wollsdorf leather-wrapped steering wheel with a softer, thicker grip, and unique door-panel stitching.
"The rich, premium materials, carefully selected colors and crafted execution create a warm, inviting environment," Seymour said. "Think about when you go to a great restaurant and how all the senses are engaged: The comfortable, plush seat. The smell of great food from the kitchen. The ambient lighting in the dining room. The meticulous presentation as your meal is served. And then the payoff when you take that first delicious bite."
Seymour assisted Vazquez in preparing the evening's meal, which included Tahitian Pearl Lettuce Wraps, Performance Garden Salad with Athletic Herb Vinaigrette, Capresse Brochettes, Midnight Shrimp Gazpacho, Ruby Red Paella, Tuxedo Black Magic Cake and Karat Gold Guava Mojitos.
The lettuce wraps (Tahitian Pearl) and mojitos (Karat Gold) were named for two new exterior colors that will be available on the Lincoln MKC when it arrives in showrooms this summer.