Discussion Starter
•
#1
•
By The Numbers: 2015 Chevy Colorado Vs Tacoma, Frontier, New Ford Ranger
Truckyeah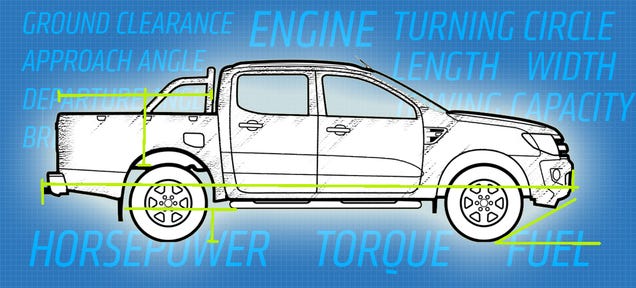 Andrew P Collins | 10/02/14 10:27am
The 2015 Chevy Colorado and GMC Canyon are injecting much-needed excitement into the mid-sized truck segment. Here's how they measure up, down, and sideways against the 2014 Toyota Tacoma, 2014 Nissan Frontier, and your forbidden love: 2015 Ford Ranger.
Why is the new Ranger, still unavailable in America, on this list while other non-US pickups are ignored? Simple: we all love the Ranger and wish we could have it. In fact, I might even wager more of you pine for it than any other non-US vehicle. At any rate, we're all keen to see how it compares to the small trucks we do get.
If there's a spec we skipped that you want to discuss, bring it up in the comments and we'll take the analysis further!
Comparison Notes
- There's a daunting range of configurations available for all these trucks; so we're going to compare two versions of each: the smallest, cheapest, lightest 2WD version and the largest, loaded, 4WD version.
- All measurements of "smallest" and "largest" are therefore hinged on being the most-striped or most-loaded model. That means a model's "maximum" isn't always represented, but this method provides a more direct comparison.
- For example; the "largest" Nissan Frontier is the luxury SV, so that's the vehicle our "largest" stats are based on. It's approach angle is lower than the PRO-4X, but is a more accurate overall-package comparison.
- The only spec we ignored that stipulation on is the "smallest bed." Since the "smallest" version of every truck has the long bed, we're looking at bed sizes independent of the trucks trim. The "smallest" bed is simply the smallest possible bed available on a given model range.
- All specifications sourced from GM, Nissan, Toyota, and Ford Australia. The Aussie version of the 2015 Ranger will be our benchmark there.
- The 2015 Chevy Colorado and 2015 GMC Canyon are mechanically identical, therefore and are interchangeable on these specifications.
Check out the full article with all the data here