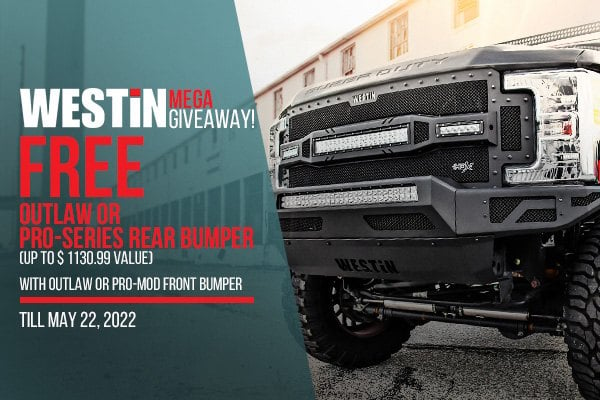 Whether you take your Ford truck off the road or keep it on the asphalt, you would love to keep enjoying the rugged, heavy-duty look of your truck's exterior. Enhance its styling even further while adding front-end protection and extra lighting with Pro-Mod Front Bumper by Westin. To balance the strength of the bumper with a reasonable weight, Westin chose 10-gauge steel as the base for this design.
Further weight savings come as one of the Pro-mods most unique features. Mesh screens add aggressive styling cues and deliver additional airflow. Since the screens are removable, you also have the option to customize your bumper with a selection of Westin LED Lights. Each bumper is finished with a textured black powder coating topcoat and laser-cut Westin logo to complete that custom look.
Buy a Pro-Mod Front Bumper and get Pro-Series Rear Bumper up to $1130.99 value for FREE! Hurry up! Do not miss out on this crazy offer! The promo is valid through May 22, 2022. You'll get your gift automatically with the order.
Westin® - Pro-Mod Full Width Front Modular Bumper with Free Rear HD Bumper
​