Re: Ford Designer Series: George W. Walker
Some background on Ford's styling organization during the early to mid 50's might be helpful.............

George Walker became a styling consultant to Ford after the success of the '49 Ford design he had created with considerable help.

He had a very successful industrial design office business with many important clients and prestige similar to Raymond Loewy.....

--Walker remained a consultant to Ford until he was appointed Vice President of Ford Styling in 1955.

a

While Walker was still a consultant with his staff --Ford also had It's own "inhouse"styling staff!!

Charles Waterhouse--of Waterhouse Coachbuilder fame in the 1930's,was the head of the Ford overall design operation,and reported to VP of engineering,Earl MacPherson..............

Ford division styling was directed by Frank Quick Hershey.

Hershey was one of Harley Earls first "Art and Colour" styling employee's at GM where he later created Pontiacs famous "Silver Streaks"in 1935,and Cadillacs P-38 inspired tailfins in 1948.

--Gene Bordinat directed Lincoln-Mercury styling.

Walkers designers were Joe Oros assigned to the Ford studios and Elwood Engle assigned to the Lincoln-Mercury studios.

Gil Spear directed Ford's Advanced Styling studio,and reported to Charles Waterhouse.

As can be imagined--this arrangement created quite a bit of friction....

b

--This group of design managers and their staff were most responsible for the actual "hands on"effort in styling FoMoCo vehicles of this era.

-George Walker was a "master politician" ,which enabled him to get the outstanding results Ford Styling was capable of--even when dealing with Robert S.McNamara.......

This effort was really as important and significant as the "hands on" styling effort.

c

The 1958 Thunderbird was a spectacular sales success,and earned a great profit for Ford--

unlike the 1958 Lincoln and Continental MK III,which shared floor space with the Thunderbird at the then new Wixom assembly plant.

d

--The only two cars to increase sales in 1958 were Thunderbird and Rambler.

--The 4 passenger Thunderbird was Robert McNamara's decision and it did turn out to be financialy very successful--even though 2 passenger Thunderbird enthusiasts were naturally disappointed.............

--Dick Nesbitt
a
interesting example of the development of in-house-design that we take for granted now.
b
oh yeah! I was thinking that as I came to your comment.
Puts me in mind of CTYankee's "tension" comment from another thread - tho
Not
the way he meant it.
c
yes, understand and agree
Also makes me think of the 'unofficial lines of communication' that exist in every organization -
from an outsider's viewpoint, I/we don't have much to go on other than job titles,
when in reality a lot of idea-flow (& just plain
work
) can happen "over the watercooler" between people not directly connected in an orgchart...
thanks again for the insights!
d
I might be off here but see those Lincoln's & the Turnpike Cruiser Mercs (
concept below
) as "of a piece"/same 'baroque' ideology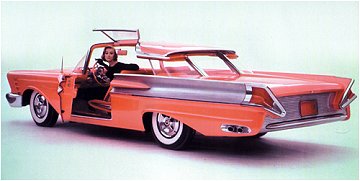 and the Tbird(/Fairlane) as a transitional direction before the '61 Continental (=
Renaissance, imho
);
in my googling, it seemed like the '61 Conti's styling was already firmly in process during the run-up to the '58's debuts (
actually as an alternative Tbird proposal
) correct?
especially the concurrent chronology part? - it amazes me that those 2 styles could be contemporary!
don't they look at least a Decade apart?
Add in the '49 Ford and it's near incredible that all these changes happened during Mr. Walker's watch!
&
reminds of a story about the mid-80's Fox 'Aero-birds' being a deliberate transition to an already-envisioned MN-12 which (
as the story goes
) was considered so radical, Ford felt they had to acclimatize the public with an interim model...
(
imho hindsight can blind one as easily as illuminate / "post hoc ergo proctor hoc"
)