Discussion Starter
•
#1
•
Good Day All,
Fresh out of the gate for Friday come new pics showing a camoflauged Ford Explorer Sport Trac wearing a revised front and rear-end.
Here is a link to the pics courtesy of
The Winding Road.com
It looks as Ford is changing out the grille for a more aggressive and in your face appearence to try and change the overall perception of it's SUV/MAV all in an effort to help bolster the Explorer's decline until the SUV morphs into a Car-Based CUV. Here are the exact words from The Winding Rad.com:
Our friends at KGP Photography have captured this cladded-up prototype of Ford's facelifted Explorer Sport Trac. The neither fish-nor-fowl SUV/pickup/thing looks like it will receive a modest freshening that includes a new mesh grille in place of the current truck's chrome bar setup. Our shooter indicates that the front bumper appears to be lower, which ought to add a measure of visual aggression and perhaps point to improved crash compatibility.

Out back, the exhaust has been rerouted subtly, with the twin chrome pipes exiting straight back (the old one poked out on the left side). Engineers have camouflaged the mule's rear bumper as well, which means that we can probably expect a subtle redesign there, too. Interestingly, Ford doesn't appear to have touched the vehicle's light clusters in either front or rear, a traditionally easy (but very expensive) change for refreshes.

No word yet on any potential running gear changes, but Ford is doubtlessly hoping to renew interest in its flagging Explorer franchise with this mid-cycle refresh. Will these changes be effected on its more traditional Explorer SUV stablemate? Will they be enough to revive the model's sagging sales? We'll have to wait and see.
Could this also possibly be a hint that SVT is going to seriously build the Adrenalin Concept that it showed a few years back?
Take a look and compare for yourself.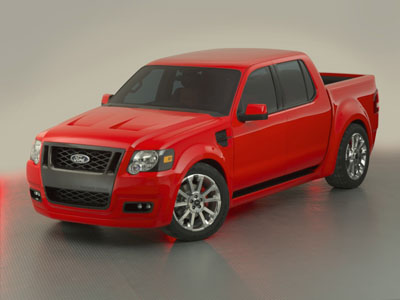 Ford Sport Trac Adrenalin Concept
Lets hope for the Adrenalin...although any freshening to the Sport Trac should help to differentiate it more from its SUV stablemate. All in all, look forward to seeing more!
As Always...Stay Fabulous!
RG59061