Discussion Starter
•
#1
•
Ford Mustang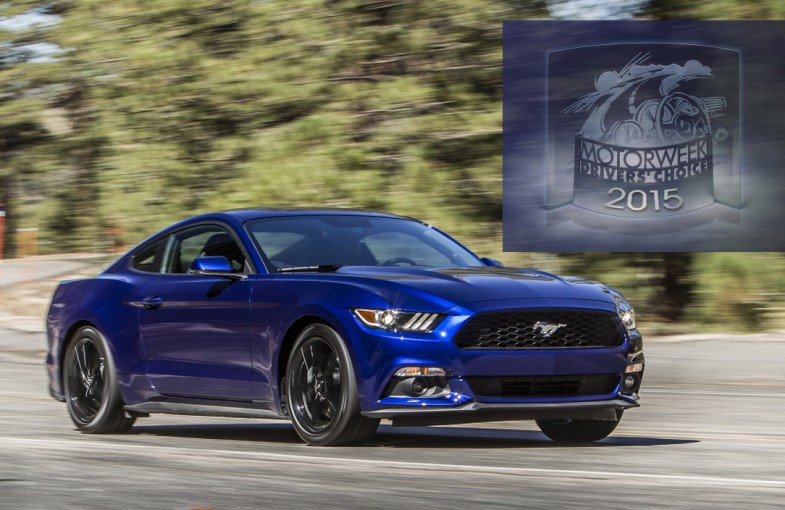 The Ford Mustang is our 2015 MotorWeek Drivers' Choice Award Best of the Year and for many reasons.
There's the total chassis reboot with standard independent rear suspension that helps the Mustang cling to the road like never before. There's the new EcoBoost turbo-I4 power to not only boost fuel economy here, but to give the new Mustang real global appeal. And, don't forget the vastly and smartly upgraded interior.
They all play a part, yes. But, the biggest reason for our accolade, Ford has matured the Mustang from a piece of well-loved American muscle car into a world-class sports car looking to compete with the likes of Corvette more so than traditional rivals like Camaro and Challenger. Okay, it's not quite there yet, but Ford has essentially taken what was already our favorite pony car and made it worlds better.
Usually when a car gets as much hype as this sixth gen Mustang, it rarely lives up to it. Not the case here, as every version we've driven, we've found better than advertised.
Sure, the incredible stable new chassis helps it handle better, and the 2.3-liter turbo-4 is cool. But it's just one of 3 engine choices that get over 300-horsepower. The standard 3.7-liter V6 carries over, and the 5.0-liter V8 gets even more power, now at 435.
As for that interior, while the classic layout stays familiar; the switchgear, seats, and most materials are better than anything else in the current Ford brand lineup, and blows everyone else in this segment away.
The same can be said for the exterior. You instantly know its pure Mustang, yet it's modernly different.
The 2015 Ford Mustang is not just a redesign, but a restart for the icon. It shows that while Ford has a great sense of history and admiration for what the Mustang has done for the brand, they are not standing still; rather looking forward.
We know there's a new Camaro just around the corner, but it's going to have to be pretty special if it wants to stop Ford's new 'stang…our 2015 MotorWeek Drivers' Choice Award Best of the Year!
For full web page (as well as individual category winners):
http://www.motorweek.org/reviews/drivers_choice_awards/#/best-of-the-year