Discussion Starter
•
#1
•
The Blue Oval Fights Back
Jerry Flint, 02.17.09, 06:00 AM EST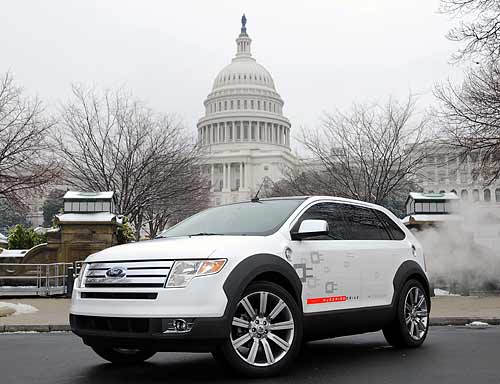 In today's auto industry, the battle is for survival, and Ford Motor looks as if it may be a survivor.
The cover of the March Automobile magazine reads, in thick, black, two-inch capital letters, "Ford Lives." The cover also proclaims, in red and black headlines, "Shocking New Taurus," "Lincoln MKT (A sexier Flex)," "41-MPG Fusion Hybrid" and "Shelby Cobra GT500 (540 hp)."
Autoweek's Feb. 9 cover has similar gushing comments extolling the virtues of the new 2010 Ford Taurus.
Yes, Ford's (nyse: F - news - people ) sales are still slipping badly, but the bad news on the sales front obscures the fact that the company is making a healthy comeback on the product side. The nation's auto writers picked the new Ford 150 pickup (still America's best-selling vehicle) as its 2009 Truck of the Year, and Consumer Reports has been saying nice things for the past year about Ford quality improvements.
I am also hearing positive things about Ford's coming products, like the Fusion hybrid that arrives this spring. Ford brags that this sedan has better mileage than the similar-sized Toyota (nyse: TM - news - people ) Camry hybrid. Around the same time, we will see a restyled and more polished 2010 Mustang. Not only has Ford seriously jazzed up the mainstream versions of its Taurus sedan, due this summer, but it will also roll out a reborn Taurus SHO at the same time. This high-performance all-wheel-drive version has a twin-turbo V-6 sporting 365 horsepower. Perhaps most important, Ford is tooling up a plant in Mexico to build a slick small car, the Fiesta, for sale next year. Ford plans several other small models for the U.S. market, including a delivery truck and an electric car.
Let us not forget the contributions of Alan Mulally, Ford president and chief executive. This ex-Boeing (nyse: BA - news - people ) executive may not have known the car industry but seems to have given Ford the stability, purpose, focus and common sense that had been lacking for years.
The problem is that Ford still has its share of negatives.
Money is running through the company like you-know-what through a goose. The fourth-quarter loss was $5.9 billion ($2.46 a share), leaving Ford with a loss of $14.6 billion ($6.41) for all of last year. Europe, which has been a bright spot, lost $330 million pre-tax in the fourth quarter. The kitty, "gross cash," went down $5.5 billion in the quarter, so cash on hand at the end of the year fell to $13.4 billion. In the auto industry that is not a lot of money to manage day-to-day operations. The company recently tapped its credit line for another--and final--$10 billion, and it has already mortgaged its core assets. So far, Ford, unlike General Motors (nyse: GM - news - people ) and Chrysler, has not asked the government for financial assistance but I would not be surprised if the company had to come to the government for money sometime this year.
Ford says January retail sales are down 27%, but the total was actually off 40% because fleet buyers are bailing. One of the newest Ford vehicles, the attention-grabbing Flex sport utility, is selling poorly--but then so is almost everything now.
Rumors abound about the conflicts within the higher levels of Ford's management, but to be honest again, that is nothing new. Ford has always had leaders, who managed the company like a kingdom surrounded with powerful and rival dukedoms.
Ford stock presently trades for less than $2.00 per share. I remember the reward for betting on Chrysler in the early 1980s when the stock was down to just a few dollars. A few weeks ago, my wife bought 1,000 Ford shares at $1.90, and frankly, I have been thinking of buying 50,000, but I do not have the guts. Do I really think I am smarter than Kirk Kerkorian? He lost his shirt on Ford.
The auto business is terrible now for almost everyone, but Ford has several positives--falling labor costs, growing recognition of its improved vehicles, management that has direction, several promising new vehicles in the product pipeline and viable overseas operations.
Ford looks like a survivor--but it is still a borderline case. It has chopped costs and it is engineering its successful European car designs for production in North America. Any kind of a general industry recovery should make Ford a profitable company again. Should a couple of other Detroit icons go down--not that anyone wants them to fall--then Ford would be the last American standing, which could be an advantage.
f
or more
CLICK HERE