Discussion Starter
•
#1
•
LINCOLN BUILDS MOMENTUM FROM IMPROVED SALES, NEW VEHICLES AND LAUNCH IN CHINA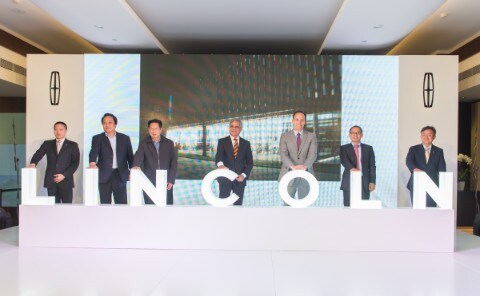 The Lincoln Motor Company showed strong progress in 2014, with improved sales, new vehicles, the brand's launch in China, introduction of Lincoln Black Label and an attention-grabbing ad campaign for the first-ever MKC featuring actor Matthew McConaughey.
Lincoln finished 2014 with retail sales of 94,474 in North America, a 16 percent increase versus 2013 and the brand's best sales result since 2008. Further, the brand closed the year strongly, with sales of 26,686 vehicles in the fourth quarter, up 22 percent compared to 2013 and the best fourth quarter since 2007.
"Lincoln built momentum in 2014 – our new products and advertising campaigns have been warmly received," said Kumar Galhotra, president of Lincoln. "We launched the brand in China, and are off to a promising start."
Overall, Lincoln growth outpaced growth in the luxury segment by more than two-to-one.
Driving this double-digit improvement in sales were the first-ever Lincoln MKC, the brand's first small premium utility vehicle, the Lincoln MKZ midsize premium sedan and the new Lincoln Navigator large premium sports utility vehicle.
Lincoln MKC, which went on sale during the summer, tallied monthly sales of more than 2,000 in October, November and December, finishing the year with a total of 13,077 sold.
Lincoln MKZ sales improved 5 percent, with 2014 sales of 34,009 – its best since 2007. Demand for the MKZ hybrid remained strong, with sales representing 32 percent of total MKZ sales in 2014.
Lincoln Navigator, an additional vehicle to the four all-new Lincoln products promised by 2016, had an immediate impact. With exterior and interior enhancements, sales of the Lincoln Navigator rose 21 percent in 2014 compared to the previous year, doubling its retail share of the large luxury utility segment.
Mirroring the performance of the brand overall in the closing stages of the year, Navigator enjoyed its best fourth quarter since 2007 with sales of 4,545 units, which represents a 71 percent improvement versus last year. Overall, Navigator had sales of 10,433 for 2014.
Stores open in China
Following years of careful and exhaustive customer and business research, Lincoln in November and December opened its first nine stores in China – in Beijing, Shanghai, Hangzhou, Qingdao, Guangzhou, Chengdu and Xi'an.
The brand is attracting new luxury customers in China through "The Lincoln Way." This unique automotive ownership experience emphasizes exemplary and engaging customer service at every step of the process – shopping, buying and owning.
Lincoln MKZ and Lincoln MKC are the first vehicles on sale in China. Mirroring product launches in the United States, these first two entrants will be followed by Lincoln MKX, Lincoln Navigator and an all-new full-size luxury sedan.
Lincoln is projected to open 60 stores in 50 cities in China by 2016.
Lincoln Black Label debuts on MKZ and MKC
Lincoln Black Label, the highest expression of Lincoln quality, design and personal service, is available on Lincoln MKZ and Lincoln MKC.
The first generation of Lincoln Black Label design themes draws inspiration from a variety of sources – from fashion and food, to luxury travel and architecture. Each was purposely created to make driving a Lincoln a more personal, emotive experience.
All themes showcase some of the finest automotive interior materials, including Alcantara®, exclusive leather and crafted woods or woods rare to the automotive industry.
A total of 32 dedicated Black Label dealers in six states will provide showroom space dedicated to serving Black Label customers. Lincoln plans to expand the network nationwide in late 2015.
Lincoln announces 10-year partnership with Revel audio
In December, Lincoln announced an exclusive, 10-year collaboration to add the premium sound of Revel® audio systems to the brand's lineup.
The next-generation Lincoln MKX will be the first to offer Revel, and is poised to deliver levels of audio enjoyment previously reserved for ultra-high-end home systems.
Revel, Harman's most premium loudspeaker brand, achieves its acclaimed performance by following a philosophy that embraces science and technology as a means to advance the state of the art in an authentic and natural way.
"The year 2014 was an important one for Lincoln because we made progress in multiple areas. We look forward to further strengthening the brand in 2015 and beyond with more products and initiatives to serve luxury customers in the United States, China and beyond," said Galhotra.
https://media.lincoln.com/content/l...mentum-from-improved-sales--new-vehicles.html