While we have all seen pictures of the new concept for Lincoln dealerships in China, it's always nice to visit and person and see how it translates to real life. I was able to get there last weekend for a visit, and come away very impressed. After seeing the photos and reading about Lincoln's China concept I knew they were onto something, and the showroom shows very well...
The Lincoln store isn't in a particularly busy or automotive area, but has decent visibility from an elevated roadway in front. What's refreshing is how simple and elegant the design of the building is; in general, the Chinese aren't known for their architectural restraint, so this store is pleasing to the eyes. I'm not sure if this dark brown is a Lincoln 'thing', but it works very well, both inside and out.
Before I even got to the building I saw three transport trucks full of MKZs and MKCs being unloaded! This is the first time I've seen either in the flesh, and there was a whole range of colours. I know some love and some hate these cars; I for one find them very sharp, and especially love the rear 3/4 view of the sedan.
The store is large, with lots of open space. A doorman greets you at the door and opens it for you, and a woman was sitting at the reception desk for any questions. What I REALLY liked was that they were available but not pushy; I HATE being chased around a store, and that is very common in China. The receptionist is right beside the Lincoln waterfall; obviously a picture doesn't do it justice, but it's really very impressive. There's an old Lincoln car as you enter to, so right from the beginning you get the feel of the 'Lincoln Legend'. A gentleman came to see me but couldn't really speak English; he was able to say that he could get an English speaker for me if I needed one, which was a nice touch.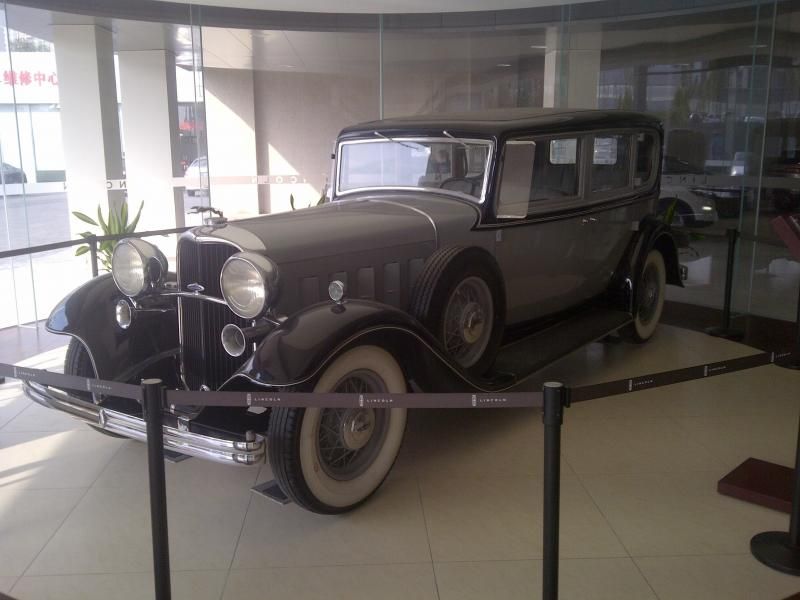 The dealership is arranged in two major rows; for now there is the front row with MKZs, and the second with MKCs. In-between are many small lounges, with chairs and tables. At first the low ceiling height struck me as odd, but I very quickly realised that it was to create a cosy and intimate atmosphere, and it works. The sedans were on a raised platform, so they truly are on display, but everything was unlocked and powered up to see the lights.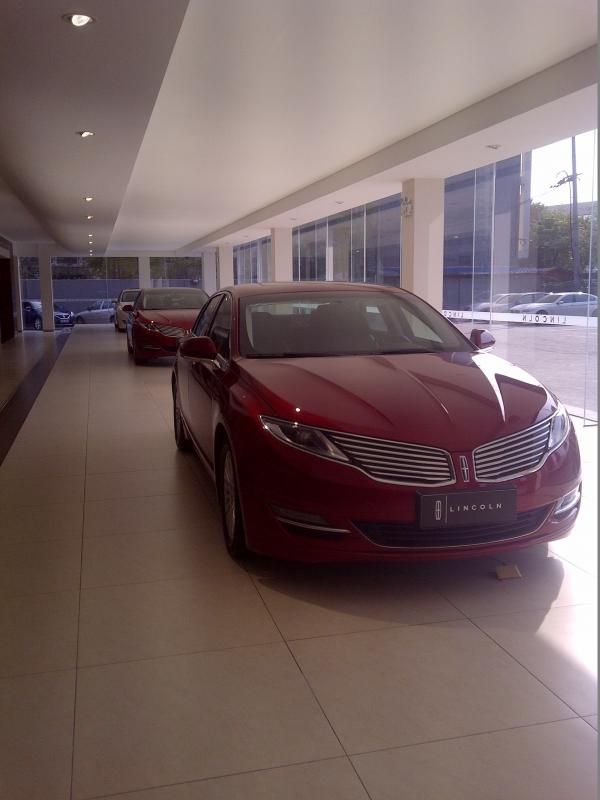 There is Lincoln branding everywhere, but it's very tasteful. I loved the huge logo in the middle of a wood-paneled wall; just the logo, nothing else. They clearly really want to make their mark. There were even some display cases selling discrete hats and wallets, all with the Lincoln name or logo, but nothing garish or tacky. There were rows of private glassed rooms for hammering out a deal, and a back office in the far corner. I even got a view of the repair bays, where several shrink-wrapped Lincolns were clearly undergoing inspection.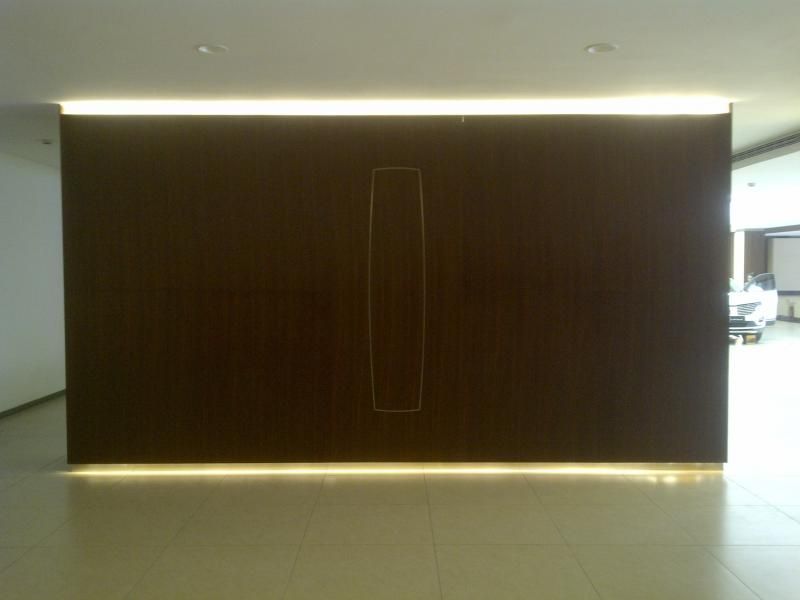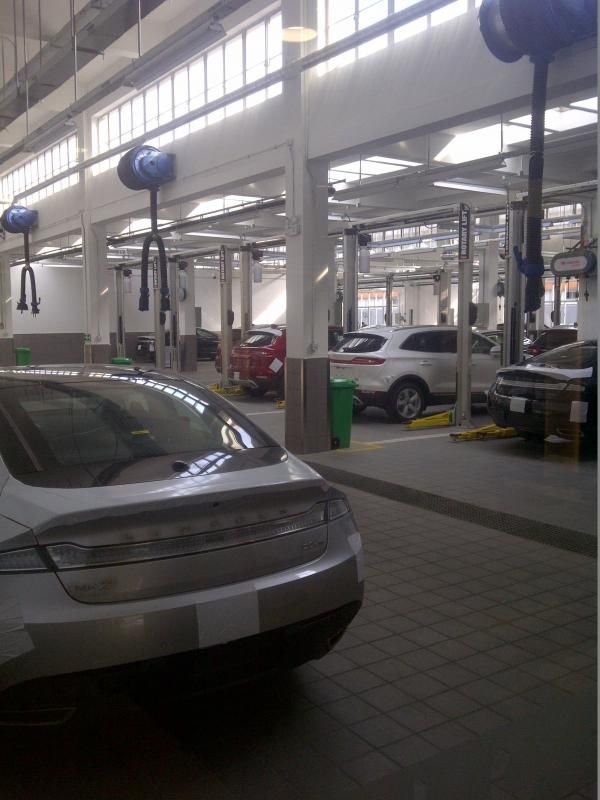 In all of the small sitting areas there are old Lincoln ads and pictures and slogans; there's no doubt as to the 'heritage' angle they are trying to play. I think that it works well; even if you have never heard of Lincoln, you come away at least understanding the brand's focus.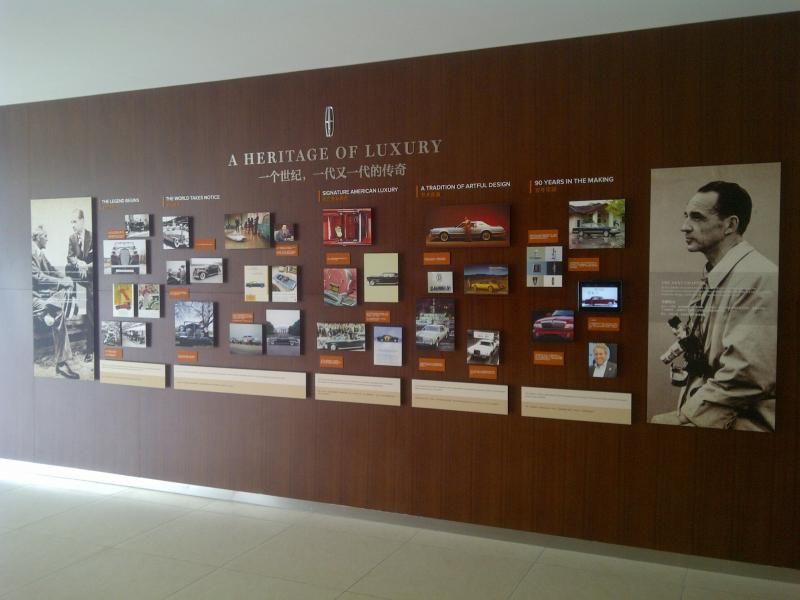 The coolest thing to me was the huge interactive screen. A giant touchscreen is built into a table, and it faces an even bigger display screen. The touchscreen works like most automotive 'build your own' websites: you pick the model and colour and options you want, and can rotate the vehicle and see different colours. You also see the price and details of the options. Only the image of the car is projected onto the screen, which is very slick; you don't see all the other info, just a gigantic picture of the car. The system is quite responsive, and the 3D image is very smooth when it's rotating. You can also go up and down to see the car from different high and low viewpoints (it doesn't simply rotate 360 degrees).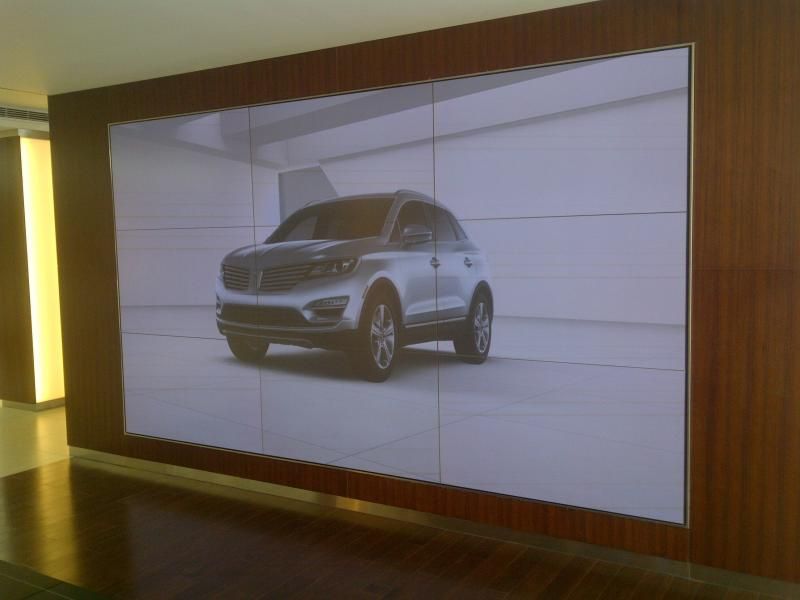 I had to wait my turn to play, as a young couple was there ahead of me. You can choose English or Chinese, and the display is very simple to use. One unexpected feature was the swatches. Samples of each exterior colour, seat fabric, leather, metal and wood finish is available on the wall behind the screen. You can look at an touch and compare them all, but you can also bring them to the touch screen and 'swipe' the electronic base across the screen at certain pages and the car updates to that choice! Smartphone-savvy Chinese people are going to LOVE this feature!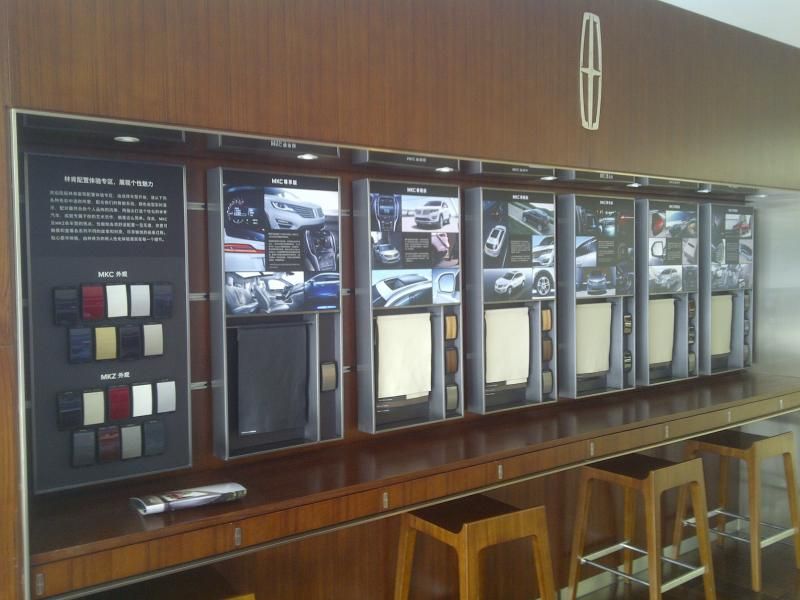 In the end I was enjoying myself so much that I forgot to take enough pictures. I also went with my Blackberry from 2007, so the picture quality is pretty embarrassing. I was also alone trying to manipulate the screen and film it, so the videos are pretty amateur hour! Sorry guys and gals; I will try to get back again soon and get some better quality images, because mine don't do the place justice.
So voilà, colour me impressed. I didn't see the word Ford once, so the general public is not going to guess this is anything but a stand-alone American luxury brand. I know the Lincoln back story and baggage, but I really do think the MKZ and MKC have the looks, the features, and just as importantly the top-notch dealership experience to make a few fans in China.