Discussion Starter
•
#1
•
MAZDA PLANNING MX-5 COUPE FOR UNITED STATES?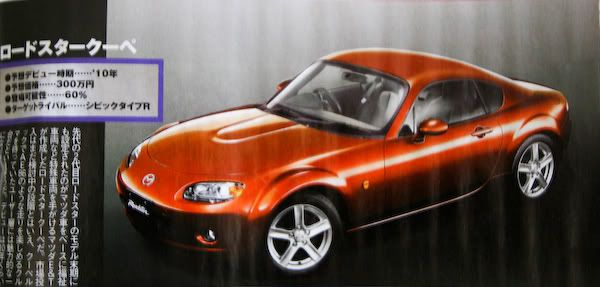 Mazda is seriously considering launching a Hard Top Coupe version of the popular MX-5 Miata to fit in along side the upcoming refresh of the MX-5 Miata Roadster.
Mazda is considering launching a coupe-variant of its MX-5 convertible in the U.S., a new report finds. Mazda produced a fixed-roof version of the last generation car, but it was only available in the Japanese market.

According to Best Car Magazine, the MX-5 coupe could hit the U.S. market as early as 2010. That date also coincides with the MX-5's refresh schedule, so Mazda could be planning the coupe to boost the car's sales late in its life cycle.

An MX-5 coupe also seems to make sense since there aren't really any cars to fill that niche. It is believed that General Motors is developing a fixed-roof version of the Pontiac Solstice, but outside of that, the rear-drive, four-cylinder coupe segment is wide open.
The scan above comes courtesy of
Auto Otaku.com
.
Mazda's MX-5 Miata is the little roadster that re-introduced us all to the fun that could be had in a small, lightweight, and powerfully fun roadster that offered all the best attributes in a winning package. It recalled the glory days of MGs and Triumphs and it thrilled and won over the child in all of us.
But every MX-5 to date has been a convertible with either a soft top, removable hard-top, or the new hard-top convertible variant. If the news out of Mazda in Hiroshima is correct...that may not be the case much longer.
Here is the full article, courtesy of my friends at
Left Lane News.com
.
I already know that the MX-5 is a blast to drive and is always the one that slaps a huge smile on the face of every critic that tests it. It always wins in Car and Driver and Motor Trend Magazine...but just think how much more rigid and stiff a Hard Top Coupe would be in the corners and how much less buffeting there would be...Mazdaspeed would have a field day with this and could certainly upstage the Pontiac Solstice GXP.
I do hope this proves to be true...it would be another big success for Mazda and could be the launch of a whole segment of new Four-Cylinder Sport Coupes.
As Always...Stay Fabulous!
RG59061