Discussion Starter
•
#1
•
So I spent the day at Elkhart Lake's Road America race track, for the
Kohler International Challenge
. Today's events were sponsored by Ford, and they had plenty of representation. Aside from numerous Mustangs and GT's on display, Ford also had a special test drive event, with much of their lineup included. The refreshed Focus coupe', Edge, Flex, F150, Escape Hybrid, and Mustang were all there. Obviously, I had to drive a few vehicles.
Unfortunately, I can't drive stick. Thus, the Mustang and Focus were out.
I decided instead to try out the newly redesigned F150.
The truck they had for me to try was a loaded FX4 quad cab. Leather, sync, everything. I have to say, as far as looks go this is already my favorite F150. They look a little akward in photos, however in person it's a very handsome vehicle. That said, I'm not a fan of most of the grille choices available. The FX4 has a black grille, shaped much like the previous truck. Other models have huge, oddly shaped slabs of chrome shoved in there. I'm not a big fan of chrome, however.
This being a hot day, the first thing I went for after climbing in was the climate controls. Had the AC not been on, it would've taken me 10 minutes to figure out how to set it. The center stack is filled with small buttons that all look alike, with a screen on top that shows all of the usual radio/hvac information. I know most people won't be using their trucks with big work gloves on, but I still have to wonder why Ford did this with their bread and butter pickup. Other than that, the interior seemed well put together with good materials.
The test track was not one where I thought the big truck would be comfortable. It was actually part of Road America's go kart track. Being a go-kart track, it was narrow with tight twists and bends. Not exactly truck territory. Much to my surprise, however, the truck did very well on my brief test. It was actually almost car like. It went through the course without a hint of trouble.
Unfortunately, there was no area to really try out the F150's acceleration. I can't possibly imagine why.
It was a very brief test, but if gas weren't priced like it is today it would've achieved Ford's goal. That is to get me interested in one of their vehicles. It's a shame, I really like the truck. I guess I'll just have to keep buying lottery tickets.
Sorry for the cellphone pics, my actual camera was filled with pics of racecars.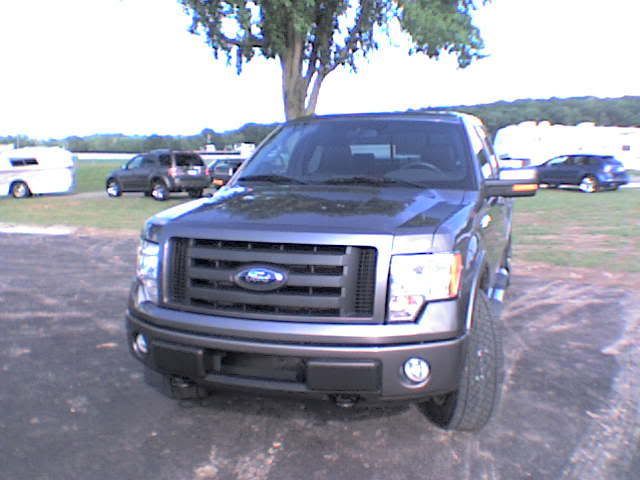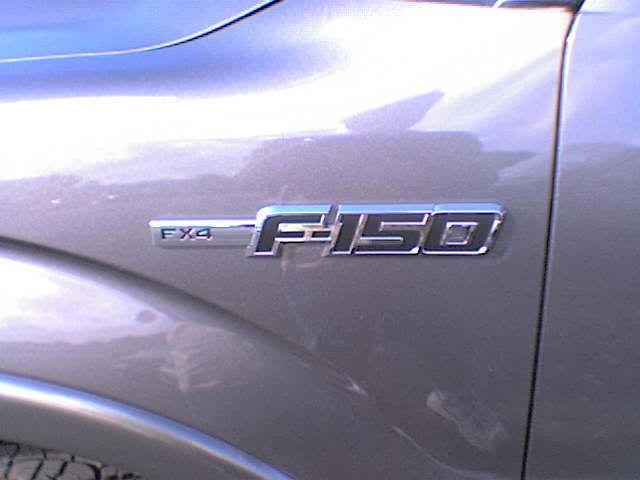 I love the new badge by the way.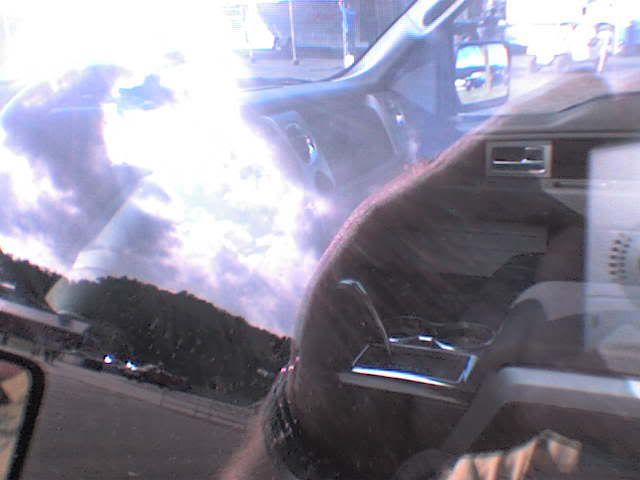 Of course it didn't occur to me to take pics during the test drive event, so I got stuck taking pictures of the truck after they had locked it up.
I also drove the Edge. It was nice, but not enough to get me to write about it and take pics.