Discussion Starter
·
#1
·
Who's for sale again?
by SobeSVT
M
ark Fields head of Ford of the Americas and Lewis Booth Head of Ford of Europe and the Premier Automotive Group are in one those "too often in Ford" battle of epic proportions, one which outcome will define what will be the Ford Motor Company of the Future. This time however they have in Allan Mulally, a seasoned referee, one with a lot less emotional involvement in the outcome than Bill Ford Jr. and one that will end up being also the judge that will make the final decision, hopefully before any blood reaches the river.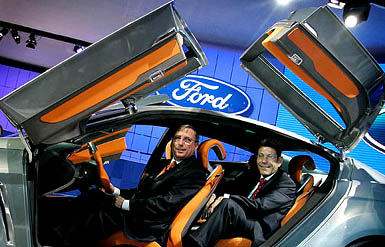 Allan Mulally, Mark Fields and Lewis Booth at the wheel of the Iosis concept
Fields has lost all confidence in Jaguar and Land Rover, and wants to sell them in order to raise much needed cash to finance the future the company. Booth, being the current guardian of the crown jewels, wants to keep them and is convinced that with the right management, these brands will provide fresh cash and a great deal of pride which seems also in short supply at Ford these days. Mullaly has ordered a full evaluation of Jaguar and Land Rover because he and only he will make the final decision of whether the British brands stay or go.
Now, this cold possibly be the worst moment to get rid of Jaguar and Land Rover. The hand over of Chrysler to Cerberus by Daimler created a horrible climate for Ford to achieve a good price or a price at all for Jaguar. Why would anyone pay a cent to Ford for Jaguar when Daimler in essence had to pay Cerberus to take the much bigger Chrysler out of their hands? This is why Land Rover gets thrown into the mix. Basically Land Rover with its brand new Freelander/LR2, its smashing hit Range Rover Sport and the ever popular Range Rover is being used as bait to attract prospective buyers. But would it be enough? England is far from nirvana when it comes to car making, its strong currency and decrepit plants make such activity a very expensive proposition. On the other hand Ford has invested a real fortune in these brands and now that the eggs are about to hatch in Jaguar where there are also a a very good looking chick also known as the XK and XKR, Ford understandably is not too happy to see it all go for peanuts just to avoid loosing money thus acknowledging that they can't run these companies successfully. The question that Mulally most answer is, can they afford to keep Jaguar?, and if so for how long?
2007 Jaguar XK
For now the review is well advanced and the day that Mulally will make his final decision is growing near at a very fast pace. In the meantime the company is under enormous pressure from the media printing and reprinting all sorts of speculations and leaks from one particular camp in the dispute. The final resolution of this conflict is, or will be made, in Mulally's head and anywhere else. We sincerely hope the cat stays in the house.
As in the most prestigious analysts reports, sources for this little note shall remain unnamed.
Thanks for reading