Discussion Starter
·
#1
·
Wrap-Around Liftgate Accentuates Unique Design of All-New 2015 Lincoln MKC
Bumper to bumper, the design of the all-new 2015 Lincoln MKC stands out, even in the crowded, competitive small premium utility segment.
From its signature split-wing grille to its hands-free, wrap-around liftgate featuring full-width LED tail lamps, MKC's design epitomizes elegance, sportiness and customer-focused technology.
Furthering design cues that were first introduced on the all-new Lincoln MKZ midsize sedan, the sleek, sculpted body of the MKC shows a strong, athletic profile. Its high beltline and low shoulders create a sturdy, performance-driven presence, while attributes such as pedestal side mirrors add a splash of elegance.
"We're confident we've created an all-new vehicle that will attract new customers to the brand while meeting the expectations of long-time Lincoln drivers," said Dillon Blanski, MKC exterior designer. "The execution of the new liftgate is a prime example of how a signature premium design element can create a better customer experience."
Shown first on the MKC Concept at the 2013 North American International Auto Show, the wrap-around liftgate was carried over to the production model only after an enormous collaborative effort from the Lincoln design and engineering teams. Because of its unique design, creation of the liftgate requires a three-step procedure.
Amino North America Corporation of Ontario, Canada will create the single-piece outer panel. The outer panels will be shipped to the Wayne Stamping Plant in metro Detroit, where the laser-welded inner panels will be manufactured.
At Wayne, a unique hydroforming enables a punch-and-die process to connect the two panels. Upon completion, the liftgate weighs only 47 pounds and offers the most efficient weight-to-surface area ratio in the segment.
Its side-cut design gives MKC an uninterrupted rearview of the full-width signature Lincoln tail lamp, and its hands-free feature is another example of Lincoln's commitment to build customer-friendly vehicles.
The MKC interior was designed with similar intent. Craftsmanship and technology combine to offer a warm, luxurious environment that features an architecturally unique instrument panel, Lincoln's signature push-button gear shifter, and the all-new Lincoln steering wheel.
"The Lincoln nameplate was built around high-quality, luxury vehicles that were instantly recognizable, and MKC continues that legacy," said Jim Farley, executive vice president of Ford Global Marketing, Sales and Service and Lincoln. "Today's luxury customer is looking for something different, something unique. MKC is further proof that Lincoln is intent on providing that unique driving experience."
Production of the Lincoln MKC is slated to begin this spring at the Louisville Assembly Plant in Louisville, Ky. Vehicles are due in showrooms this summer.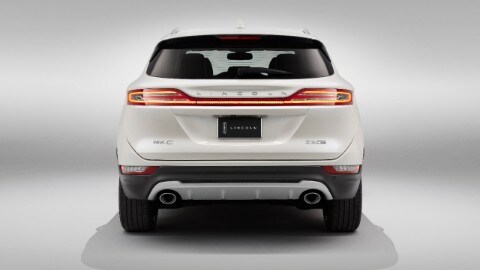 https://media.lincoln.com/content/l...entuates-unique-design-of-all-new-2015-l.html